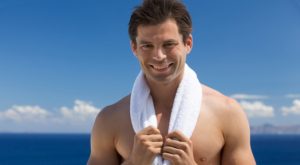 While we are late in the summer season and some kids are even heading back to school, it doesn't mean that it's time to give up your summer grooming habits just yet. In fact, there are some things you may want to keep doing all year long. Here are some endless summer grooming tips to keep you living easy throughout the year.
First of all, a lot of guys start cropping their hair short when the weather gets warmer and then let it go longer again in the colder months. If a short haircut looks good on you, consider keeping it all year around. You can always wear a hat if your head gets cold. You can't instantly switch from shaggy to clean cut unless you live with someone who can cut your hair for you.
Body hair grooming should also be an all year long venture. When we are spending time at the beach or poolside in the summer, we remember to get our the trimmer, but your significant other is going to appreciate it when you continue to pay attention to this aspect of grooming regardless of the season. What should you trim? Consider getting rid of everything on the back and shoulders. No women really find that attractive at all. Everything else can be trimmed to one even length. Don't go too short. You don't want to end up with chest stubble. Armpit hair should be just a little longer than everything else.
What about facial hair? Again, this has a lot to do with personal preference. Of course, clean cut is always classic and is nice and cool for the summer. There's no reason that should change throughout the year. Neatly trimmed sideburns can be a good look, especially if you have an oval face or a well defined chin. Any other facial hair should be kept well groomed. Break your trimmer out every few days to be sure nothing gets unruly.
Be sure to take care of your nails. We think about it during the summer because we wear open toed sandals a lot, but be sure to keep your nails trimmed even if you're going to be wearing socks, shoes, and gloves.
The summer of 2013 may be past its prime, but your summer grooming habits are timeless. Be sure to keep them up so you can look and feel your best all year around