Start Gym At Home With a Small Space

Everyone needs to exercise at least three to four times a week to keep themselves healthy and in shape all the time. You need to practice the same methods within yourself if you want to live longer and healthier. However, not everyone has a gym membership or doesn't have enough time to travel to their local gym. If you want to keep fit without the need to leave home or you just want to save money, you might want to consider starting a home gym.
Pro Tips for Starting a Home Gym with limited Space
Purchase Equipment
What makes your space truly a gym is when you have the right equipment at home. Most people go to the gym to workout because they have a wide range of equipment, workout classes, and cardio machines. Moreover, if you want to ensure a smooth and complete workout routine at home, you should purchase the specific equipment that you regularly use.
The first step in starting a home gym will be to purchase the basics. Equipment such as a jump rope, dumbbells, exercise bench, mats and cardio machines like indoor cycling, or a treadmill should be a priority. However, if you're in for a heavier workout routine, you should purchase a leg press machine for the home gym to give you a gym-quality workout without taking up too much room in your home.
Set A Dedicated Space in Your Home
To have an effective workout session in your the gym you start at home, you should have a dedicated workout area. A closed-door room is ideal to give you privacy and limit distractions.  If you usually get pumped up by listening to loud music as you workout, it may not be the best scenario if your partner just loves to watch a good TV show peacefully. To avoid any possible conflicts, you should have a dedicated area in your home where you can workout at peace without disturbing others or any other distractions.
When choosing your space, ensure that you're not taking every possible area over and removing any existing space in your home that people use regularly. You can't just kick your children out of their room so that you could build your gym. Try to look for ways on how you can develop your gym without evicting suitable areas.
Work Within Your Space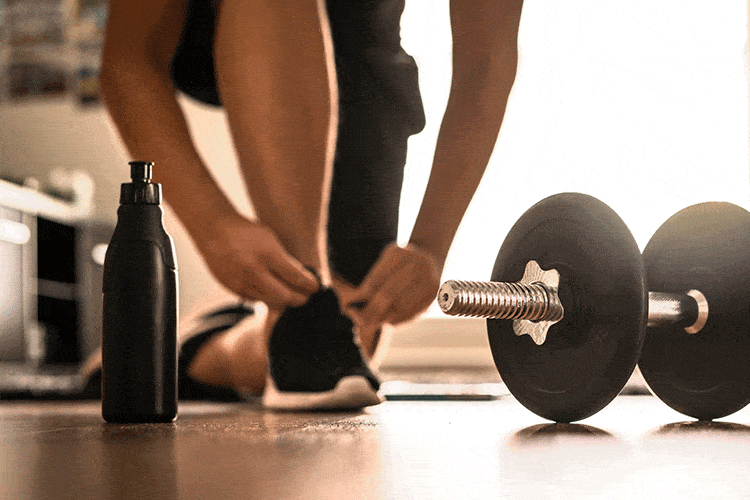 Home gyms are usually small, compact, and efficiently spaced. With that, you need to settle for as little space as you can spare to start a gym at home. With a small space to work around, try to maximize your area using smaller equipment in your gym. Instead of a treadmill for your overall cardio, you might want to consider using a jump rope. Plus, you can hop a few steps just right within your yard or take a jog or walk outdoors.   
There's plenty of gym equipment you could purchase that is small, compact, and foldable, perfect for tight spaces. In that way, you don't have to compromise your workout routine, even if you have only a tiny space to dedicate to your home gym.
Keep Your Home Gym Organized
When you start a gym at home, you don't want it to look like it just got ransacked by just letting your dumbbells lie around the floor. The best way you can maximize your home gym space is by keeping everything organized.  You should have a dumbbell rack, shelves where you can keep your light equipment, and a corner where you can place your yoga mat for yoga, stretching and essential ab work.  
As you organize your home gym, you're allowing yourself to have more space to work around while ensuring that everything is in place and you instantly know where to find it when you need it. Along with proper storage, your gym equipment should last long and will serve its purpose for years to come.
Stay Within Your Budget
When starting a home gym, you'd be surprised at how much it can cost, especially for equipment and accessories. Apart from those costs, you also need to ensure that your gym has proper ventilation and quality flooring to withstand heavy equipment and is safe to perform exercises. You might also want to purchase mirrors so you can keep track of your posture as you work out.
Before you go straight to the sporting goods store for your gym equipment, you can look for bargains online. There are several apps like offer up and eBay where you can find used equipment at a lower price in perfect or gently used condition. If you're not too brand conscious, you can purchase generic brands that still serve their purpose well. You could just upgrade your home equipment when you have enough budget in the long run.
Starting a home gym can be tricky, especially with the limited amount of space you could probably have. But with the proper planning, you can make the most out of your small space and keep a healthy lifestyle for everyone. What's great about starting a home gym is that everyone in your household can use it without the added fee. It's a healthy habit for the entire family.
Most Recommended