Adonis Index Workout How to Build Your Physique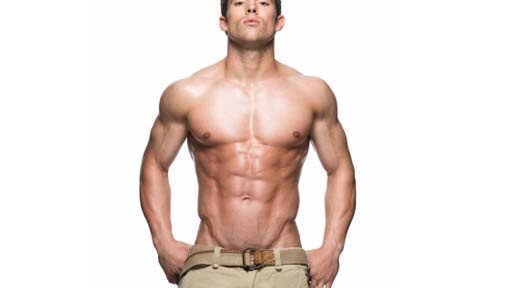 The Adonis Index or the "golden ratio" is a simple measurement of your shoulder-to-waist ratio. It is often referred to by many professionals within the fitness industry as the Adonis golden ratio after the greek god Adonis. Mathematically speaking the Adonis ratio is based on the comparison of any two existing characteristics that allows them to be effectively and ideally proportioned. In more simple terms your Adonis Index is the proportions of your waist to chest compared the "gold ratio" which is said to be about 6.1. This is then compared to your hip size and when all components are compared a v-shaped symmetrical balanced body is the result.
What is your Adonis Index?
This known golden ratio has been widely used throughout the fitness and bodybuilding industry by trainers and professional bodybuilders to successfully stimulate muscle growth. Build the coveted six pack abs and improve core strength and muscle tone. This value is often a specific number rather than being used to develop muscle tissue as observed by the traditional bodybuilder. The Adonis gives the bodybuilder a definitive visual perception of his muscular shape and fitness of obtaining a favorable and appealing state of their body allowing the Adonis Index ratio to be observed as the ideal proportion of the male body.
Using the Adonis Index for bigger gains
Men who are slim built and are looking to achieve muscle growth are able to use the Adonis Index to guide their training workout to achieve the proper proportions recommended in the golden ratio. Such would be observed in a male with a current waist of 28 inches, adopting the formula of the Adonis Index should have a shoulder-width of 45 inches. This knowledge will allow the individual to set his training goal to achieve the recommended shoulder width by actively selecting the correct training exercises respectively. As such individuals must pay extremely close attention to the Adonis Index and golden ratio when aiming to build that perfect physique and impressionable body structure, having widely definitive shoulder width and tight waist.
The Golden Ratio
It has long been a theory that the golden ratio of the Adonis Index is the Holy Grail to obtaining the perfect masculine physique. Allowing such a man to be the ultimate center of attraction to women wherever he goes. As such people who have decided to base their training on the principles of the Adonis Index have been found to develop a high sex appeal much to the desire of young ladies who often find their bodies irresistible.
Greek mythology recognized Adonis as the Greek god of desire and beauty, a fitting name to this golden ratio rule. This has often resulted in attractive well defined males to be fondly called Adonis in recognition of their striking physique.
Most Recommended