Burpee Workouts Routine The Ultimate Program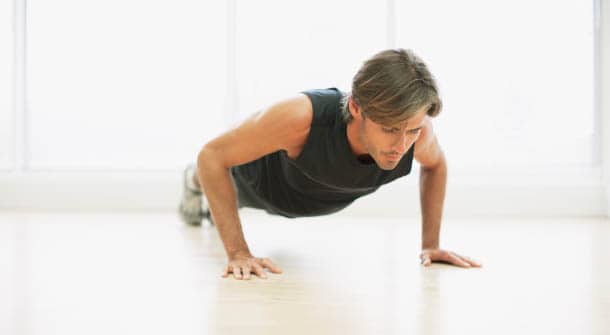 The ultimate burpee exercise workout routine is an exercise that gets the whole body moving and only requires your own bodyweight as the catalyst for working up a sweat. Doing a burpee workout routine is really about cardio but also building your shoulders, chest, glutes, thighs, and core as well as increases your respiratory endurance. Performing burpees is a little tougher on those who are heavy set or less fit, but there are modifications that can be implemented to ease the stress on the joints and, like all cardio exercises, you can adjust the pace to best fit your fitness level.
The ultimate burpee exercise workout routine
How to do a burpee
To perform the typical burpee, start standing. Squat down to the floor and place your hands on the floor in front of your feet and a little wider than your feet. Bear your weight on your hands and kick your feet back in one motion so you land in a plank position, and spring your feet back forward so they return to your hands and you are in a squatting position. From the squat, jump straight upward with your hands stretched above as high as you can. When you land you are back in the standing position to begin the next burpee workout. Some variations will have you do a pushup in the plank position before bringing your feet forward to the squat.
Burpees are meant to be performed in succession to build endurance and stamina.
For a solid burpee workout routine, you need to incorporate some other maneuvers as your form will invariably suffer over a long enough period of time. For our purposes we will keep it as simple as possible; utilizing only our bodies with no other assistance or weight.
Burpee form:
Squat, kick your feet out, kick your feet back in, stand. No pushups and no jump. Do this for thirty seconds.
Do 15 squats.
Back to burpee workout with pushup- squat, kick your feet out, pushup, feet back in, stand. No jumps. Do as many as you can for thirty seconds.
Ultimate Burpee Exercise Workout
Perform 15 squats
Jump into hill climbers for 30 seconds. Your heart rate should be pretty high by now and we are about to finish so keep up this pace.
Now perform full burpee workout with pushup- squat, feet out, pushup, feet in, jump up and reach for the sky.
Return. Repeat. Do as many as you can for 30 seconds.
Once you finish move into 20 squats, 30 seconds of hill climbers and then hold a plank for 30 seconds.
Take a break! Well done! Rest for about a minute and repeat and get ready to see results!
This should have been about 4 minutes of continuous activity.
While the exercise is simple, it will start to feel like a long time after the first two minutes. Work at a pace that is good for you until you get the hang of it. Go through the ultimate burpee exercise workout routine about three times for a solid 15 minutes of cardio and whole body burn.
Most Recommended