Working Out at Home Benefit For Mental Health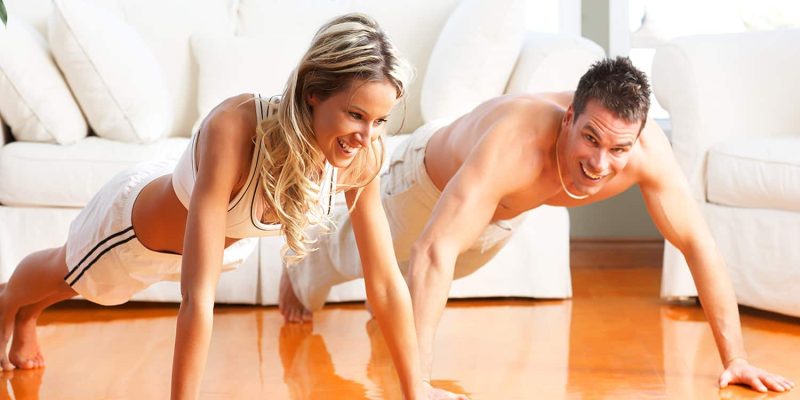 Where you work out matters just as much as how you work out. The best routines can atrophy if they take place in a vacuum where it's difficult to stay motivated and focused. With so many people working from home now, it's tempting to set up a home gym, too. The question is, does working out at home actually …work out? Even if you can keep up with your physical activity, what about your mental state?
How Working Out at Home Benefits Mental Health
The Pros and Cons of a Home Gym
A home gym can be both a blessing and a curse. On the one hand, working out from home is convenient. It costs a decent amount of money to get a good setup, but once you've invested, you start saving on the long-term costs of a gym membership. You also cut out the time spent packing up and traveling to and from your gym.
However, there are also some concerns worth considering. For instance, a home gym can make it hard to stay on track with your fitness regimen. The proximity of your workout space to the rest of your life can make it easy to slip into bad habits and mentally sluggish behaviors.
Ways to Make a Postive Change
It's odd, but the simple act of packing your bag and leaving your home can be motivating, even if it is an inconvenience, too. By working out at home, you run the risk of getting lazy about your workout routines. You also lose the motivation that naturally comes from being in a space with others who share your fitness goals. A gym is full of like-minded individuals who quietly push each other to do their best each and every day.
This mental battle can make it difficult to keep a healthy mindset when you work out from home. Isolation and flexible schedules can completely derail your rhythm. That said, if you can keep up your fitness activities at home, it is still possible to benefit both physically and mentally. You can still tap into benefits that come from exercise, such as improving your mood, reducing stress, and managing anxiety.
In many ways, it's akin to remote work. Many people thrive in a remote work setting, but it often comes from specific behaviors that are tailored to their situation.
The same can be said for home workouts. If you're thinking of working out at home, there are steps that you're going to want to take to ensure that your psychological state is helped, rather than hurt, by the experience.
Tips for success for working out at home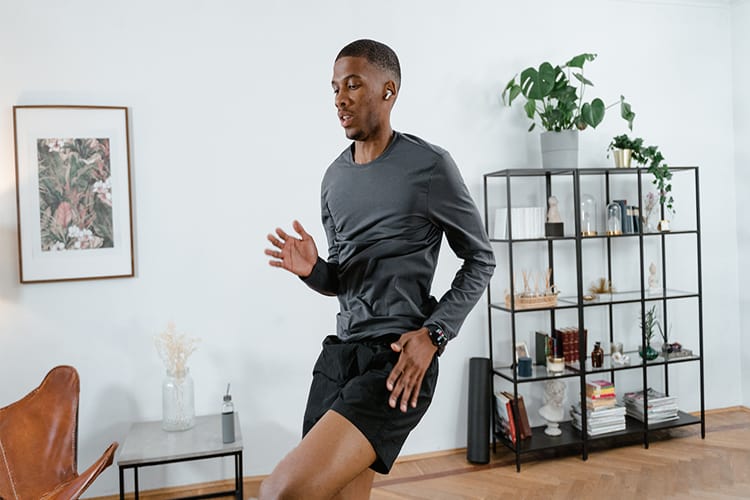 Here are a few of the best tips to help you get the most out of working out at home, mentally speaking.
1. Create Lines of Demarcation
If you exercise in the same spaces where you eat and rest, chances are your workouts won't last for long in that environment. The problem is, if you relax and exert yourself in the same space, it can be hard to clear your head and focus.
Instead, invest in creating a clearly defined workout space within your home with equipment, tech for apps, and other fitness gear for working out at home . Ideally, this will be separated, such as a room in your garage or basement or even an unused bedroom or office.
If you don't have extra space to spare, you can let your exercise space overlap with other living spaces, but try to do something to make it unique. For instance, work out in your living room, but move the furniture out of the way, turn on the lights, and give the room a distinctly different vibe.
2. Get Outside Sometimes
It's fine to work out inside. In fact, if you have a lot of equipment, you likely need to keep it inside so that it isn't affected by the weather.
Even so, if you want to watch out for your mental health, it's a good idea to take your fitness routine outside from time to time, too. Use your backyard to lift free weights. Go for a jog on a local trail. Jump rope in the driveway.
However you do it, find a way to get outside. Sunshine increases your vitamin D intake. Fresh air is good for productivity. The outdoors is a well-known creativity-enhancer. When working out at home Exercising outdoors is the perfect way to care for your body and mind at the same time.
3. Stick to a Rock-Solid Routine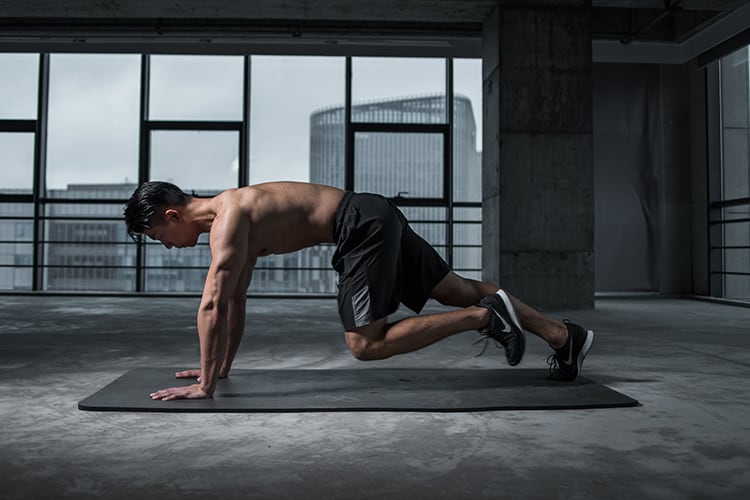 Anyone who enjoys working out is aware of the importance of a good routine. If you aren't in a groove, it's hard to get up early in the morning to get to the gym. Once you're in a good routine, the activity can go on autopilot.
When you're working out from home, it's easy to blur the lines between activities and slowly lose momentum. The same can be said for remote work. Keeping a routine in place is a critical part of psychological health for those working from home — and the same can be said for working out.
If you decide to commit to a home workout scenario, you absolutely have to maintain a routine. Don't just loosely adapt your gym routine to your home, either. Start from scratch and think through what kind of routine can help you really stay on track on a daily basis within your particular circumstances.
4. Get an Accountability Partner
If you work out at home, you're going to be isolated no matter how successful you are. With that in mind, make sure to set up lifelines that connect to other humans whom you can reach out to when you're struggling.
You can do this by simply finding a group on social media or creating a text feed with fitness friends. These are great ways to keep the conversation going.
However, you should also go a step further by finding an accountability partner or two. This isn't something you should do lightly. Instead, seriously consider who you know who can help you stay on track by:
Offering encouragement;
Being non-judgmental;
Pushing you when you need it.
There are many places where you can find a good accountability partner, from asking a friend to finding someone in an online fitness group or even a past acquaintance from your local gym.
Mentally Benefitting from Home Workouts
There are many ways to stay fit at home — both physically and mentally. However, all of these options require commitment. You can't trust your normal gym mentality to keep you on track on the home front.
Instead, stay accountable, designate workout spaces, create a solid routine, and get outside when you work out from time to time. This can work wonders not just for your body but for your mind, as well, by enabling you to tap into the positive psychological elements that come from working out at home.
Most Recommended