Prevent Depression with an Exercise Training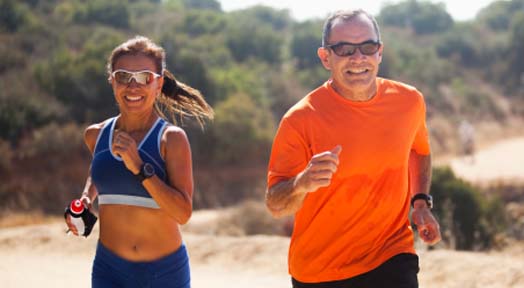 Simple instances of depression and anxiety can often be enough to deter any person from completing their exercise routine. However for the person who is able to motivate themselves into performing their workout have often been rewarded with a positive and lasting experience which has many times led to that person in time able to prevent depression.
How exercise is the key to prevent depression
The typical exercise routine has in several ways in which it can prevent depression and also has been found to improve a vast number of health related conditions such as diabetes, high blood pressure, and even arthritis. Scientific research to determine the relationship between exercising, anxiety and depression has adequately shown that a person who is suffering from anxiety and depression can benefit from relief by simply including an exercise routine into their weekly schedule. During this research it was concluded that many participants who were found suffering from depression and anxiety were found to benefit both physically and psychologically in reducing their depressive mood and anxiety when they took part in an exercise workout to prevent depression.
Although the determining factor to suggest the link between exercising and depression has never been formally established, many people worldwide have stated that by working out on a regular basis they have been better able to relax as their occasional mood swings and depressive tendencies became less noticeable the more they increased the frequency of their exercise workout.
Release of endorphins
Many scientists however have attributed the ease of depression and anxiety through exercise to a number of factors which include, the release of neurotransmitters and endorphins commonly known as feel good chemicals by the brain during exercising. The decrease in the amount of chemicals produced by the body during exercising which have been known to contribute to anxiety and depression as well as an increase in a person's body temperature during the exercise routine which might attribute to a more relaxed mood.
Confidence Booster to prevent depression
Other suggested benefits from an exercise routine also includes a boost in the person's confidence levels as they overcome the various challenges and achieve their set goals of the exercise workout. The typical exercise workout is able to serve as a distraction method to change the thought pattern of a person to reflect more on the exercise workout and less on negative events and circumstances that can induce acts of anxiety and depression. An exercise routine allows the person to become involved in social activities by interacting with people during the occasional walk within their neighborhood or working out at their local gym to prevent depression.
The right fit for your schedule
Most psychologists have found that to successfully treat the instances of anxiety and depression lies not within the intensity of the exercise routine but rather the ability to involve the workout within the patient's schedule. Many people have occasionally associated the term exercise with running around the local gym from one exercise machine to the other, however this is not the case. To exercise includes the completion of a wide variety of activities to increase their levels of performance both physically and mentally. These activities do not only incorporate strength training, weight lifting, playing basketball among other activities but can also seen to incorporate getting up of the couch to wash the car, doing a bit of gardening, walking the dog, riding a bicycle or just walking over to a friend's house.
Most Recommended