The Best Fitness Classes Every Man Should try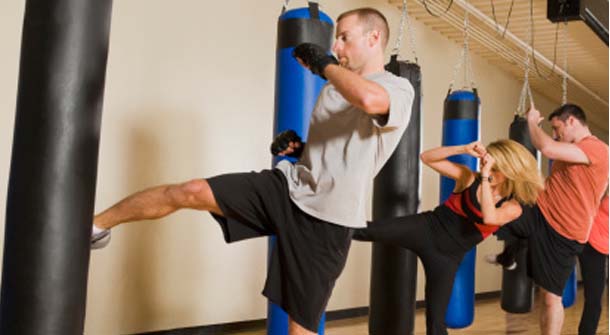 If you go to a gym you have probably seen the fitness classes in the big glass room and chalked them up to just for women activities. True some of the aerobics and dance based fitness classes might not be for the average guy however more gyms are introducing classes that appeal to both sexes. These classes offer a different type of workout in group setting with professional instructors. You can learn new moves to incorporate into your everyday fitness routine or mix things up so you don't get caught in a workout rut. Hey worst case scenario you might end up getting to talk to that hot chick you've had your eye on, so what do you have to lose?
Best fitness classes for men
Kickboxing Class
This is a great co-ed class that should contain punching, kicking, plyometrics, and boxing moves. Make sure and check out what the class consists of before joining in to make sure there are not a lot of dance type choreography to learn and more cardio fat burning moves. Most classes will also have weights you can use to up the difficulty level.
Yoga fitness classes
Although Yoga is usually associated as a class for the ladies it's actually one of the best fitness classes for men. Yoga is great for stress relief, flexibility and core strength. The moves are slow and you won't get much of a cardio burn but it's a great compliment before you do a lifting workout or a run on the treadmill. More great benefits of yoga are that it works your entire body unlike lifting or other sports that use only 15% of muscle groups, it increases your oxygen flow to help your body deal with the physical stress build ups, and it helps with you posture and can ease injuries which will help you do the activities you enjoy more. fitness classes
Sports Conditioning Classes
Sports conditioning classes take on a crossfit type approach of endurance, fat burning and weight training circuits. Many people equate it to a boot camp of sorts where you do Olympic lifts, cardio exercises and Ab exercises. These classes are new and may be available at your local gym if they have the proper equipment. If you choose this class get ready for an intense workout with other motivated individuals.
Most Recommended