How To Gain a Pound Of Muscle: A Comprehensive Guide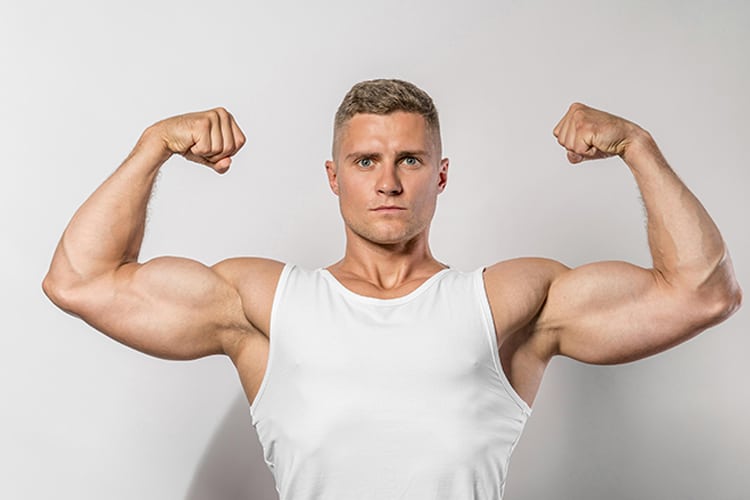 Gaining muscle is a common fitness goal for many men. Whether you want to look better, feel stronger, or improve athletic performance, adding muscle mass can be beneficial. Gaining a pound of muscle, specifically, may seem like a small target, but it can make a significant difference in your physique and strength. Here's a step-by-step guide to help you gain that elusive pound of muscle.
1. Understand the Basics
Before diving into specific strategies, it's essential to understand some basic principles about muscle growth:
Muscle Hypertrophy: This is the process where muscle fibers increase in size, primarily through resistance training.
Progressive Overload: To stimulate muscle growth, you need to continuously increase the weight or resistance you're working with. Simply put, what challenges you today should become easier tomorrow.
Recovery: Muscle growth doesn't happen during workouts but during rest. When you give muscles time to recover, they rebuild stronger and bigger.
2. Tailor Your Diet for Muscle Gain: How To Gain a Pound of Muscle
Muscle building requires fuel. To gain weight, you must consume more calories than you burn. Here's how:
Consume a Caloric Surplus: Calculate your maintenance calories using a TDEE (Total Daily Energy Expenditure) calculator and add 250-500 calories to it.
Prioritize Protein: Aim for 1.2 to 2.2 grams of protein per kilogram of body weight daily. This is essential for muscle repair and growth.
Balance Carbohydrates and Fats: Carbs fuel your workouts, while fats support hormone production. A balanced intake of both is vital.
3. Engage in Strength Training
Strength training, especially weight lifting, is the most effective way to stimulate muscle growth.
Compound Exercises: Focus on compound exercises like squats, deadlifts, bench press, and pull-ups. These movements target multiple muscle groups simultaneously, promoting maximum muscle activation.
Train Consistently: Aim for 3-5 days a week, targeting different muscle groups.
Progressive Overload: As mentioned, consistently increasing resistance is key. If you lifted 100 pounds last week, aim for 105 or 110 pounds this week.
4. Consider Training Volume: How To Gain a Pound of Muscle
Training volume is the total amount of weight lifted in a single workout session. Increasing volume can spur muscle growth.
Sets and Reps: For hypertrophy, 3-5 sets of 8-12 repetitions per exercise is a good range.
Don't Overdo It: More isn't always better. Excessive volume can lead to overtraining, which hinders muscle growth.
5. Prioritize Recovery
Sleep: Aim for 7-9 hours of sleep. Growth hormone, essential for muscle recovery, is released predominantly during deep sleep.
Rest Days: Incorporate rest days into your routine. Muscles grow during rest, not during workouts.
Stretching and Mobility: Regular stretching and mobility work help in muscle recovery and decrease the risk of injury.
6. Stay Hydrated
Muscles are about 70% water. Staying hydrated can help with muscle function, recovery, and growth. Aim for at least 8 cups of water a day, more if you're active or live in a hot climate.
7. Supplements: Are They Necessary? How To Gain a Pound of Muscle
While supplements can be beneficial, they are not strictly necessary for muscle growth. However, if you choose to incorporate them:
Whey Protein: Helps in meeting daily protein requirements.
Creatine: Can increase muscle strength and energy during workouts.
Branched Chain Amino Acids (BCAAs): Might aid in muscle recovery.
Always consult a healthcare professional before starting any supplementation.
8. Monitor and Adjust
Gaining muscle isn't a linear process. Track your progress, including:
Weight: Weigh yourself at the same time and under the same conditions.
Measurements: Measure muscle circumference to track growth.
Strength: Note the weights you're lifting.
Adjust your routine and diet based on your observations and results.
9. Mindset and Motivation
As you journey towards gaining muscle, understanding the importance of a positive mindset cannot be overstated.
Set Clear Goals: Whether it's gaining a pound of muscle or five, having clear objectives will help steer your efforts in the right direction.
Stay Consistent: Results won't appear overnight. Persistence and regularity in your training and diet are critical.
Celebrate Small Wins: Every time you lift heavier or notice a slight definition, take a moment to appreciate your progress.
10. The Role of Cardio
While strength training is paramount for muscle gain, cardiovascular exercises shouldn't be overlooked.
Aids Fat Loss: Cardio helps in burning excess fat, ensuring that the weight you gain is lean muscle.
Improved Blood Flow: Cardiovascular exercises increase blood flow, delivering more nutrients to the muscles and aiding in recovery.
Balance: Incorporate 2-3 days of moderate cardio without overdoing it, so you don't burn excessive calories needed for muscle growth.
11. Nutritional Timing: How To Gain a Pound of Muscle
When you eat can be almost as important as what you eat.
Pre-workout Nutrition: Consuming a combination of carbohydrates and protein an hour before your workout can fuel your session and reduce muscle protein breakdown.
Post-workout Nutrition: After exercise, your muscles are like sponges. Consuming protein and carbs within 30 minutes to an hour post-workout can boost recovery and muscle synthesis.
12. Understand Muscle Anatomy and Biomechanics
While this might sound technical, having a basic understanding of muscle anatomy can be very beneficial.
Target Different Parts: For example, the chest comprises the upper, middle, and lower pectorals. Different exercises target different parts. Incorporate varied movements for comprehensive growth.
Avoid Imbalances: Ensure you're working on all muscle groups equally to prevent imbalances, which can lead to postural issues or injuries.
13. The Importance of Form and Technique: How To Gain a Pound of Muscle
Gaining muscle isn't just about the weights you lift but how you lift them.
Avoid Injuries: Proper form ensures that the targeted muscle group is engaged and reduces the risk of injuries.
Maximize Efficiency: Correct technique means you're getting the most out of every rep, leading to better muscle activation and growth.
14. Stay Informed and Updated
The fitness and nutrition landscape is ever-evolving.
Research: New studies are continually released. Keep yourself informed to ensure you're following the best practices.
Avoid Fads: While it's essential to stay updated, be wary of fads that promise quick results. Stick to proven techniques and methods.
15. Get Expert Advice: How To Gain a Pound of Muscle
If you're unsure about your routine or if you hit a plateau, consider seeking expert advice.
Hire a Personal Trainer: Even if it's for a few sessions, a personal trainer can provide insights into your form, routine, and diet.
Nutritionist Consultation: If you're struggling with your diet, a nutritionist can help tailor a meal plan suitable for your goals and body type.
16. Importance of a Support System
Having a support system can be a motivating factor in your muscle gain journey.
Gym Partners: Training with a friend can be motivating and can provide a sense of accountability.
Online Communities: Join online fitness forums or groups where members share their experiences, challenges, and successes.
Conclusion: The Holistic Approach
Gaining a pound of muscle, or any fitness goal for that matter, isn't just about physical effort. It's a holistic journey encompassing your diet, mental well-being, knowledge, and support system. By approaching muscle gain from multiple angles, not only will you achieve your target, but you'll also establish habits that benefit your overall health and well-being. Remember, it's a marathon, not a sprint. Embrace each step, learn from any setbacks, and celebrate every ounce of progress.
Most Recommended