Intensity Techniques Weight Training – 21's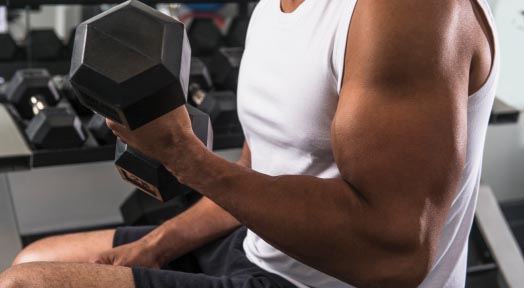 If you are seeking workout techniques to amp up the intensity in your lifting routine"21's" are an extreme way to pump as much blood as you can into your muscles…more than you ever thought possible. And, if you've ever tried these, you know what we mean.
How to do Intensity Techinque 21's workout
Basically, "21's" are 21 reps of a single exercise done in 3 parts. The first 7 reps are usually done from the bottom ½ to half-way-up. The second 7 reps are done from half-way-up and finish at the top half. And, the final 7 reps are full reps – top to bottom.
The Intensity Techniques exercises you see these types of sets done with the most are with Barbell Bicep Curls. However, you can also incorporate them in your Quad Day using them for Leg Presses, Squats (recommended on a Smith Machine for safety) or even Leg Extensions. You can even use them for Hamstrings – Lying, Standing, or even Seated Leg Curls. Intensity Techniques
You could try to use them for other body parts, but in our ever-so-humble opinion, you won't get much out of it. For example, Back is such a complex body part and the range of motion is relatively short, chances are you won't get much out of it. Same with other body parts like Chest and Triceps. But, like we've mentioned before, we don't like to limit a person's vision. If you think you can, give it a whirl and see how it feels. You can also reverse the order if it tickles your fancy (i.e. doing the top half first, then the bottom half), but you should usually finish with the 7 full-reps.
21's Complete Workout: Intensity Techniques
Standing Bicep Barbell Curls 21 reps (7,7,7) x 3 sets
Traditional Squat 21 reps (7,7,7) x 3 sets
Dumbbell Rows 21 reps (7,7,7) x 3 sets
Lying Leg Curls 21 reps (7,7,7) x 3 sets
Rest for a minimum of 1 -3 minutes between sets and stretch each muscle group before starting the next exercise.
Most Recommended