How To Choose The Right Athletic Shoes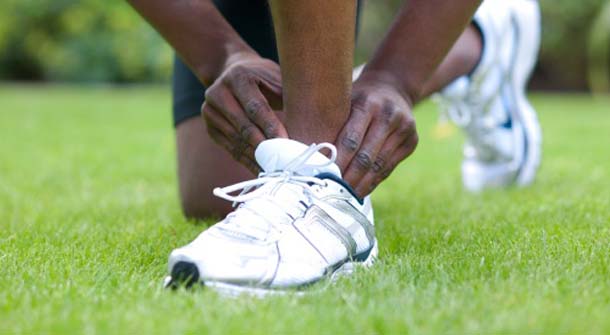 Making a determination on how to choose the right fitness athletic shoes you use will depend on the type of sport and what to look for in running shoes or other physical activity you will be playing. Because different activities take place on different terrains, and certain sports engage different parts of the foot, it can give you a big advantage, and be beneficial to your physical health, to choose the right shoe for what you intend to do. Here are a few examples of different athletic shoes that are useful for particular activities.
Tips to Choose the Right Athletic Shoes
What to Wear for Running
Even within a certain activity, running for example, there are many different types of shoes. You probably have a number of companies come to mind when you think about running shoes. Top favorites are Nike and Adidas. But in recent years minimalist running shoes have taken off in popularity. If that is something that interests you, companies like Saucony and Merrell are the way to go. Choose the right athletic shoes For example, the Merrell road glove (just like it sounds, these shoes have individual toes) is designed to feel like you are running completely barefoot, while providing protection from the road. The Saucony Kinvara shoe is more conventional looking yet almost weightless, It also gives a little extra support for running on pavement. New Balance makes a Minimus Trail shoe designed for minimalist runners who like to run on rocky trails. It's a lightweight shoe with extra tread for more protection.
Best Shoes for Basketball: choose the right athletic shoes
Basketball shoes are designed to help you get maximum lift. They also lessen the impact when you land from a big leap. Many major shoe names like Nike and Reebok are well known for their basketball shoes. These shoes are often high top to protect against ankle twists. Endorsements from professional players abound, and many of these are the most popular shoes like Kobe Bryant from Nike which is up to its 7th incarnation. choose the right athletic shoes
Cross Trainers for Multi Sport
Cross trainers are a great shoe for most other sports. They have extra support for heavy lifting and can be used as weight lifting shoes, although there are also shoes made specifically for advanced lifters. These shoes are great if you are going to be moving side to side a lot. You can wear them while you do your favorite aerobics routine. If they have non marking soles, you probably can even get away with them on the racquet ball court. But tennis shoes are also good for this function (and tennis, which makes sense).
Whichever sport you enjoy, give yourself an edge, and prevent injury, by making sure that you are wearing the proper athletic shoes for that activity.
Most Recommended