Weight Circuit Training Workout Plan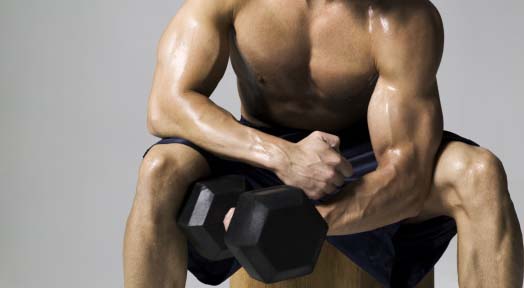 They have names like Crunch and Pumped and Rockhard. Some have aerobics and yoga. Others have swimming pools and spinning rooms. Every gym out there seeks to appeal to a certain type of patron… and so it's not surprising that each one is just slightly different. But one thing they all seem to have in common is the Weight Circuit.
How to start a Weight Circuit Workout
Men's club, women's only fitness center, no matter where you go you'll see the weight circuit organized in a very similar fashion each and every time. It isn't coincidence. It is the result of proven results gained from working muscles in a deliberate, progressive order.
First developed back in the 1950s, the circuit is amazing in its ability to adjust to nearly any user regardless of fitness level, gender, height or weight. At its simplest, the term 'circuit' refers to a set of exercises completed in a specific series and then often repeated at a different intensity.
Benefits of the weight circuit
The weight circuit, like all circuits, breaks up the body into related muscle groups. For instance, upper body typically consists of arms, chest, upper back and upper torso. Lower body includes legs, but also lower back and lower abs. Cardio circuits seek to build cardio endurance (like a slow pace and high incline on a treadmill) as well as cardio capacity (like high-speed pacing on a flat incline). The reason it works is that it helps isolate muscles by exhausting others, with quick recovery intervals between sets.
Upper Body Weight Workout
Start with something like a chest press, then move to a back extension, then a pectoral fly,
Then a reverse fly for shoulders, then on to shoulder raises or extensions with cables or free weights, then bicep curls and triceps extensions, and finishing with some upper abdominal curls.
The order matters because after doing a chest press, you're less likely to push the pectoral fly with your arms which means your chest gets the maximum benefit of the exercise, which is precisely the point of Weight Circuit.
Yes, you'll still engage your arms as part of the fly because it's the nature of the exercise, but you'll be focusing on your pectoral muscles. You'll also learn that if you do too much with your arms in the fly, you'll be pre-exhausting your shoulders before you get to those targeted exercises. It continues that way throughout the circuit, regardless of what type of circuit you're completing.
And while you won't be perfect from the beginning, you will most certainly become more aware of specific muscle groups and how they behave while being used. Once you know that, you'll have the insight to modify your weight and intensity as you progress.
Most Recommended