Beard That Basics But Fits Your Face Great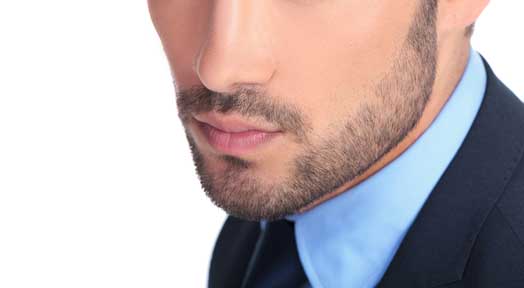 A basics beard for men is a manly thing a thing that transcends fashion and makes a great statement about your personal style. If you're blessed with abundant and cooperative facial hair, it's worth trying on a beard at least once. We've compiled some great tips on growing and maintaining a beard that looks great and is oh-so-you.
A basics beard for men
Growing It Out
Growing a beard can be a daunting, if manly endeavor. The process takes time and definitely has its ups and downs, so it's important that you stay committed to the end result. To start off, you'll have to grow your beard out–mountain-man style, with little or no intervention–for four to six weeks. This ensures that you can really get an idea of 1) whether you can actually grow a beard, and 2) exactly how and where your hair grows.
Once your beard is fully grown out, it's time define it in your own signature style. You can do this yourself (tricky) or place yourself in the hands of a professional barber (recommended). A barber can help you tailor your beard to your growth pattern, your type of hair and the look you're going for. After that, it's all maintenance.
Not sure where to draw the (neck) line? For a good balance between a feral free-for-all and an overly-coiffed facial fiasco, make your neckline about an inch down your neck and angle it upward toward your jawline. This look is adequately professional without being fussy.
One tip: At first, your skin will rebel against your newfound manliness in the form of some serious itching. Try and tough this phase out: it gets much, much better once your skin gets used to being hairy. To lessen your discomfort, apply a mild hydrocortisone cream every other day, wash your beard with a mild shampoo and moisturize it regularly.
Trimming and Taming beard
Unless you're planning on going rogue with your facial fuzz (really not recommended), it's going to require some upkeep, which is going to require the right tools. You have some options in this respect. Some gentlemen prefer to use scissors, which is more time-consuming but, some might argue, more exact and more satisfying, while others prefer to use beard trimmers, which tend to be much quicker and far more convenient.
If you're using scissors, invest in professional haircutting scissors and a small fine-tooth comb. Comb the hairs downward and trim on the outside of the comb. Trim your mustache hairs carefully, following your lipline–exposing half your upper lip is never a good idea. Never trim your beard when it's wet, as wet hair is heavier and longer, and you don't want to get surprised at how much you actually took off once it dries.
Beard trimmers come in all kinds, from electric models to battery powered portable styles. Most come with a variety of guides that allow you to tailor your beard length. Read all of the instructions carefully, and proceed carefully the first time you use your trimmers. It would be a shame to ruin four weeks of scruffy and itchy with one slip of the hand. Use the longest setting until you get used to how your machine works.
A couple of tips: Whether you're using scissors or trimmers, it's always wise to err on the side of "too long." If your beard tends to start right below your eyeballs, use a razor or an electric shaver to clean up your cheekbone area.
Cleaning and Conditioning
Wash your beard with a mild shampoo and condition it regularly. Comb it daily with a beard comb.
Most Recommended