Haircuts For Long Curly Hair Men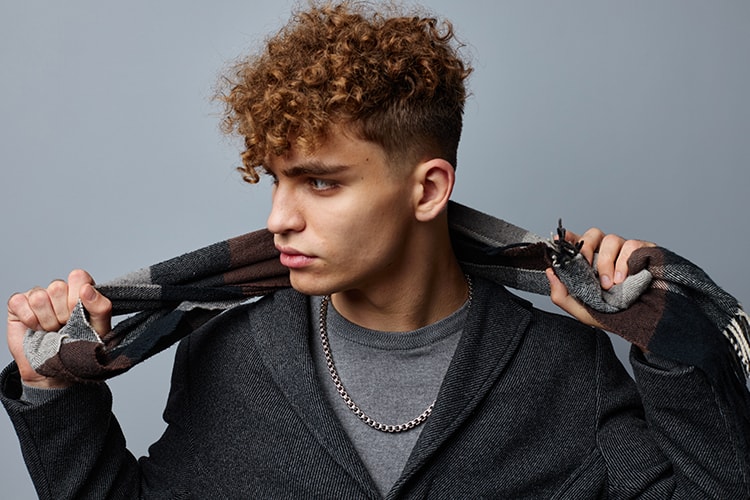 Long, curly hair for men is a striking and versatile look that has become increasingly popular in recent years. While many guys embrace their natural curls, choosing the perfect hairstyle can sometimes be a challenge. This comprehensive guide will walk you through the expert advice on haircuts for long curly hair men. Discover the best styles that suit your face shape, hair type, and personal preferences, and learn how to maintain your chosen haircut to ensure your curls look their best.
The Ultimate Guide to Haircuts for Long Curly Hair Men
Embrace the Natural Texture:
The first step in finding the perfect haircut for long curly hair is to embrace your natural texture. Curls come in all shapes and sizes, from loose waves to tight coils, and understanding your curl type is essential when choosing a haircut. Work with your hair's natural patterns and avoid excessive heat styling or harsh chemicals, as these can damage your curls and leave them looking lifeless.
Consider Your Face Shape:
When selecting a haircut, it's crucial to consider your face shape. Certain hairstyles can enhance your facial features or balance out proportions, while others may not be as flattering. Here are some general guidelines:
Oval: This versatile face shape can pull off almost any hairstyle. Long layers, side parts, and loose curls will complement the natural symmetry of an oval face.
Square: Opt for hairstyles that soften the angular features of a square face. Long layers, side-swept bangs, and loose curls are great options.
Round: Choose haircuts that add height and create the illusion of a longer face. A pompadour or a quiff with long, curly locks can help achieve this effect.
Heart: For heart-shaped faces, aim to add volume around the lower half of the face. Long curls with layers and side-swept bangs work well.
Popular Haircuts for Long Curly Hair Men:
Now that you have a better understanding of your hair type and face shape, explore some popular haircuts for men with long curly hair:
a. The Long Layered Cut:
This haircut adds dimension and movement to your curls while removing some weight, making it easier to manage. Long layers work with any curl type and can be customized to suit your face shape. Ask your stylist to cut layers that frame your face and taper them gradually down the length of your hair.
b. The Curly Shag:
The curly shag is a modern and edgy haircut that combines long layers with choppy, textured ends. This style works best for medium to tight curls and adds a fun, carefree vibe to your look. The curly shag is perfect for guys who want a low-maintenance haircut that embraces their natural texture.
c. The Curly Man Bun:
The man bun is a versatile hairstyle that works well with long curly hair. It can be worn high on the crown of the head or low at the nape of the neck, depending on your preference. The curly man bun keeps your hair out of your face while showcasing your curls' natural beauty.
d. The Curly Undercut:
The curly undercut combines a short, buzzed undercut with long curls on top. This haircut adds contrast and edge to your look while maintaining the length of your curls. The curly undercut works best with medium to tight curls and can be styled in various ways, such as slicked back or worn loose and wild.
Styling Tips and Maintenance:
To keep your long curly hair looking its best, follow these styling tips and maintenance advice:
a. Keep it hydrated: Curly hair is prone to dryness, so it's essential to use a sulfate-free shampoo and a moisturizing conditioner specifically designed for curly hair.
b. Use a leave-in conditioner: Applying a leave-in conditioner or curl-enhancing cream after washing will help to define your curls, reduce frizz, and lock in moisture.
c. Detangle gently: To avoid breakage, use a wide-tooth comb or your fingers to gently detangle your hair when it's damp, starting from the ends and working your way up.
d. Avoid heat styling: Minimize the use of heat styling tools, such as hairdryers and flat irons, as they can damage your curls and cause frizz. If you must use heat, always apply a heat protectant spray beforehand.
e. Trim regularly: To maintain the shape of your haircut and prevent split ends, get your hair trimmed every six to eight weeks.
f. Experiment with styling: Try different styling products, like curl-defining creams, gels, or mousses, to find the perfect combination for your hair type. Don't be afraid to experiment with different techniques, such as scrunching, finger coiling, or plopping, to enhance your curls.
Choosing the Right Stylist:
Finding a stylist who specializes in curly hair is essential to ensure that your haircut suits your unique hair type and texture. Look for a stylist with experience in cutting and styling curly hair, and don't be afraid to ask for recommendations from friends or family members with similar hair types. A skilled stylist will be able to assess your curl pattern and recommend the best haircut for your specific needs.
Long curly hair for men is a stylish and versatile look that can be tailored to suit any face shape and hair type. By understanding your unique curl pattern and considering your face shape, you can choose a haircut that complements your natural texture and enhances your features. With proper care and maintenance, your long curly hair will remain healthy and vibrant, allowing you to rock your chosen haircut with confidence.
Embrace your long, curly locks and explore the various haircuts available to find the perfect style for you. Whether you opt for a long layered cut, a curly shag, a man bun, or a curly undercut, the key is to work with your natural texture and showcase your curls' unique beauty. With the right haircut, styling tips, and a skilled stylist, you can achieve a stunning and head-turning look that truly embraces your long, curly hair.
Most Recommended