Best Haircut For men And Hairstyle Tips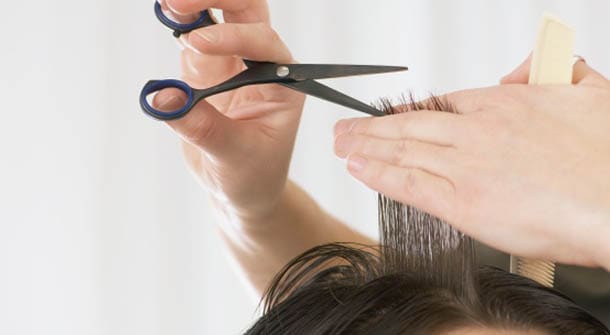 Haircut tips to help ensure a great hairstyle for mens For the lucky men who chose to go with a shaved look the task of ensuring a great hairstyle cut isn't all that complicated, but for guys who are looking for a haircut that's a little more involved the task can be hard if you don't have a regular barber to go to or a are looking for a new style. 5 haircut tips to help ensure a great hairstyle for mens so they won't have to spend the next 6 weeks with a hat on in embarrassment.
Men Haircut tips to help ensure a great hairstyle for mens
Tip #1: Chose the Barber Shop/Hair Salon Wisely
A haircut for men isn't just a simple chop of the hair unless you're getting one of those old time bowl cuts. It is a complicated process that requires the person cutting the hair to know how the shape is created and how your hair will be influenced by the cut. That is why a skilled barber is essential. Choose a barber shop or hair salon that is well known for quality haircuts in a wide variety of styles/textures and that has great prices; after you have secured those two everything else is easier to find.
Tip #2: Give Them a Clear Picture of What You Want
Don't leave anything to chance with your haircut… most of the time a bad haircut for men is just as much the customer fault as the person cutting it because they weren't clear on what they wanted. If you have it bring a photo or sketch to help provide a visual image for the person to start from with decisive ideas on length, texturing, layering, etc. If you want a haircut that allows you to style your hair in a faux hawk hairstyle make sure to mention it or if you want to have a more natural look don't hesitate to tell them.
Tip #3: Don't be Afraid to Stop them When You See a Problem
Men don't be meek, you're going to have to live with the haircut. So if you see a problem, speak up so that they can correct the problem before it becomes irreversible. Some cuts once made can change the overall haircut such as making the hair too short on the top or layering on the side when you don't want it. If you don't speak up when you see a problem the result is your fault and your fault only.
Tip #4: Ask the Barber/Hairdresser for Haircut Advice
If you are looking for a new haircut they might be able to provide you with a great haircut idea based upon the shape of your head and the texture of your hair. The barber/hairdresser has been trained to work with hair and depending on the years in the business they might have invaluable knowledge about what look would be best for you and what look would make you look like a guy who's trying too hard. Additionally, asking advice from the person can open up a window for you to get discounts and special offers because you've shown an interest in the services they can provide.
Tip #5: Don't Forget the Finishing Touches: best haircut for men
When you think of a man haircut or hairstyle you probably think of just the visible areas, but the finishing touches like the side of the ears and the back of the neck is just as important. If you hate hairs near your ears be sure to make it clear before the person finishes cutting or if you like a certain shape to the hairline at the base of your head give them instructions such as having the hair come to a sharp "V" in the middle or giving it a ruler straight trim across the board.
Most Recommended