Best Haircut For men : A Perfect Guide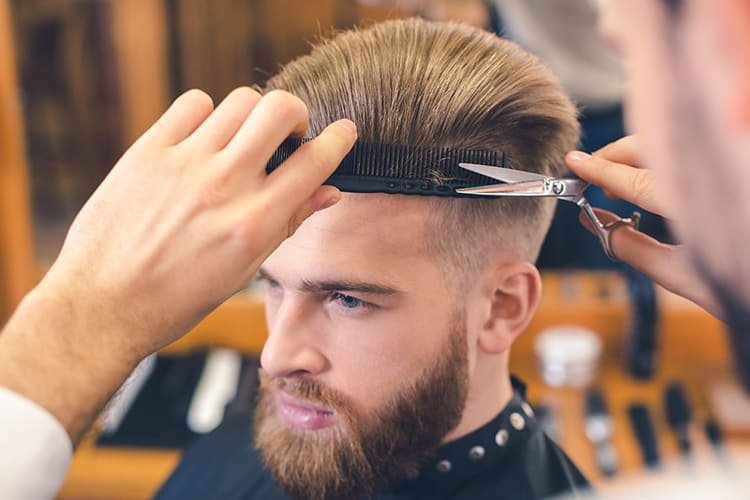 Choosing the right haircut isn't always an easy decision. Whether you're considering changing your current style, looking for a fresh cut, or simply wanting to update your look, it's important to find a haircut that aligns with your personal style and complements your features. Here are some of the best haircuts for men that are both trendy and timeless.
1. The Crew Cut
The crew cut is a classic men's haircut that has stood the test of time. It's a neat, functional, and low-maintenance option. Typically, the top of the hair is cut short and gradually tapers down on the sides and back. This cut is especially flattering on men with an oval or square face shape, and it gives off a clean and professional vibe, making it suitable for both personal and professional settings.
2. The Fade
Fade haircuts have been a staple trend in men's fashion for decades. The fade involves a gradual tapering of the hair length from the top of the head down to the sides and back, with the hair getting progressively shorter. Variations include the high, mid, and low fade. This haircut is versatile and can be paired with various top hairstyles such as the pompadour or a simple crew cut.
3. The Undercut
The undercut features short sides with a longer top. This striking contrast makes the haircut stand out. Depending on how you style the top, the undercut can exude both a modern edge or a vintage vibe. Pair it with slicked back hair for a classic look or with messy, tousled hair for a more relaxed style.
4. The Pompadour
Originating from the 1950s, the pompadour has evolved into a modern, trendy haircut. It features short sides and back with a long, voluminous top swept upwards and backwards. Though it requires more styling effort than the other cuts, the pompadour offers a distinct and attention-grabbing look.
5. The Buzz Cut
For men who value simplicity and minimalism, the buzz cut is the ultimate choice. This haircut is characterized by its extremely short and uniform length, achieved using clippers. It's virtually maintenance-free and gives off a tough, masculine vibe. Plus, it's a great option for those with a receding hairline or thinning hair.
6. The Quiff: haircut for men
The quiff is an iconic men's haircut that combines elements from the pompadour, flat top, and sometimes even the mohawk. It involves a sweep of hair up and back from the forehead. It's versatile, stylish, and can be worn in a polished or more textured, tousled way.
7. Long Hair
Long hair on men has become increasingly popular in recent years, and if managed correctly, it can create a stylish and unique look. This style requires more care and maintenance but provides a variety of styling options, from the man bun to the loose flow.
Remember, the best haircut for you depends on a variety of factors, including your hair texture, face shape, and personal style. It's also essential to consider the maintenance and styling effort required. While some cuts look great with minimal styling, others may need more effort or regular trips to the barber.
Also, remember that haircuts are not permanent. If you're feeling adventurous, trying out a new haircut can be a fun way to experiment with your personal style. If you're unsure, talk to your barber or stylist. They can provide expert advice tailored to your hair type and face shape and help you find the perfect haircut.
A great haircut can enhance your features, boost your confidence, and make you feel great feel great about your appearance. Below, we delve into a few more unique styles to consider.
8. The Taper Cut: haircut for men
This traditional men's haircut offers a timeless charm. It involves a gradual tapering of length from the top towards the sides and back, but unlike a fade, the hair isn't shortened down to the skin. The taper cut is versatile – you can pair it with a slicked-back look or a side part for a more refined appearance.
9. The Textured Crop
The textured crop is becoming increasingly popular among men. It features a short, choppy top with a blunt fringe, and often is paired with a fade or undercut on the sides. This hairstyle is perfect for adding volume and dimension to your hair, and it's a great choice for men with thick or wavy hair.
10. The Side Part: haircut for men
The side part is a classic men's haircut that never goes out of style. It's characterized by a distinct line dividing the hair into two sides, with one side having significantly more volume than the other. It's a versatile haircut that works with all hair types and lengths and exudes a sense of sophistication and maturity.
11. The Mohawk and Faux Hawk
For men who dare to be different, the Mohawk offers an edgy, rebellious style. It features shaved or faded sides with a strip of longer hair down the center of the head. If the traditional Mohawk is a bit too bold for your taste, the Faux Hawk is a more subtle alternative that maintains some length on the sides.
12. The Slicked Back: haircut for men
The slicked-back look is a stylish haircut for men that gives off a sleek, sophisticated vibe. It's achieved by using some product to push the hair back from the forehead. This look works best with medium to long hair lengths and can be combined with an undercut or fade for a modern twist.
While choosing the perfect haircut, it's essential to consider the practicality of the hairstyle. Consider how it fits into your lifestyle – whether you have a formal job or an active, outdoor lifestyle can affect which haircut is best for you. Regardless of the hairstyle you choose, remember that regular care and good hair hygiene are vital to maintaining a fresh and stylish look.
Choosing a new hairstyle can be an exciting way to express your individuality and style. The right haircut can boost your confidence and show off your personality. So whether you opt for a classic cut or decide to try something trendy, remember that the best haircut for you is one that makes you feel like the best version of yourself.
Most Recommended