How to Shave Hard to Reach Areas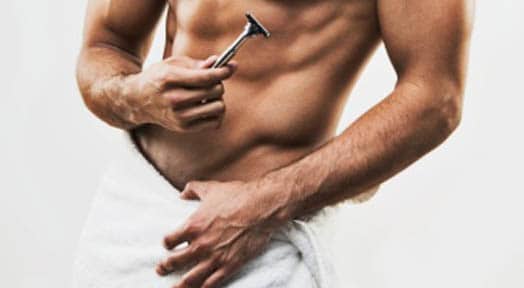 With all the hype of the metrosexual world men are now expected to bare all and shave their entire bodies down to baby smooth skin. The only problem with that desire is there are some seriously hard places to reach with a razor. So if you find yourself reaching for those, um, areas where the sun doesn't shine consider the following techniques to get help shave hard to reach areas and make things a little bit smoother for you.
How to shave hard to reach areas
Your first task should be to gather the right tools for your little manscaping adventure. Head out to the local drug store and purchase a tin of some shaving gel, not cream. The reason gel is so important in the shaving process is due in part to the way it sticks to your hair. As men, we tend to have thicker hair and more of it, so gel is an important tool. It also reduces irritation and cuts down on shaving time. The next tool you need is obviously the right razor or shaver. More than likely if this is your first rodeo you will need to grab a pair of trimming scissors or you will need to invest in a body grooming shaver that cuts your hair down to a manageable length. You can find all over body shavers by searching through Amazon or eBay. Once you have your tools you can get down to the fun stuff. shave hard to reach areas
Steam your hair follicles
To raise your hair follicles so you can get the closest shave possible take a hot shower or bath and use an exfoliating body wash to get rid of dead skin cells. After you have thoroughly cleansed your skin you can then apply your gel and start shaving. Of course, if you are trying to shave hard to reach areas like you back, legs, or neck you need to consider different methods of shaving. Let's take the back area for example, one way is to attach two mirrors in your shower and reach as far as you can with your shaver on your back. Where you can't make it happen implore the help of one of your closest friends or invest in a handy dandy full body trimmer like Phillips Ultimate Bodygroomer for a few dollars. The result is well worth the money.
Go with the grain in sensitive areas
If you decide to use a razor make sure every stroke goes in the direction of your hair growth. This will prevent bumps, rashes, and general skin irritation in conjunction with giving you a cleaner shave. The goal is to make your shave as clean as possible without injuring yourself. Generally, most guys can reach to their mid-back without struggling to reach so this shouldn't be too big of a feat. However, areas such as the neck may be a tad more difficult to shave (especially the nape of the neck). Your best strategy is to have both a full length and hand mirror available for your entire shaving process so you can see exactly what areas you missed and where to focus your attention on.
Aftercare is a must: shave hard to reach areas
Post shave make sure to apply a moisturizer of some sort to your skin. A cream that is all natural and contains as little chemicals as possible is best if you have very sensitive skin. Once you have achieved the right kind of shave you have to keep up with your routine to keep your skin looking good, healthy, and hair free.
Most Recommended