Jason Momoa Caveman Hair And Beard Look

Jason Momoa is the new synonym of perfection. There is something up with the guy's hair and beard and how he carries it picture perfect every time. This brilliant actor with great physique carried in style the long unkept or braided hair as "Khal Drogo" in Game of Thrones. And of course not to forget the long, flowing, bountiful hair he sported in Aquaman. Are you keen on trying these looks yourself but don't know how to? We have your back! Find out how you can effortlessly groom your hair and beard style to match the A-level look just like Jason Momoa.

The Hairstyles inspired by Jason Momoa for Guys with Long Locks!
Mid-Half Bun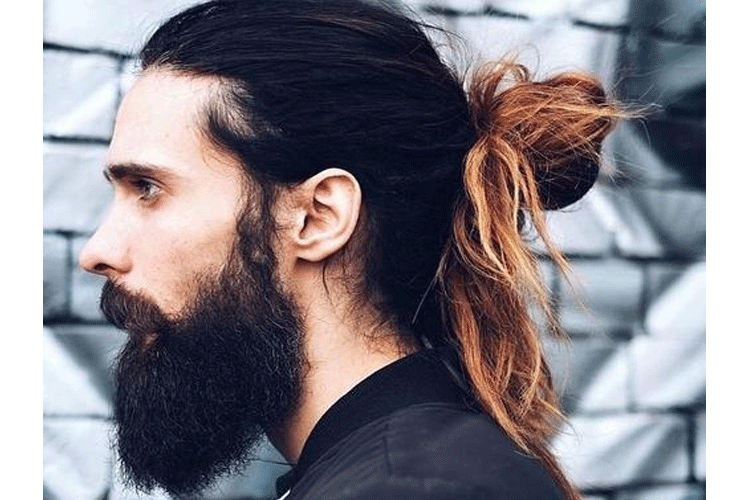 This is a widely popular style you should definitely try out to up your style quotient and accentuate the look. Firstly tie your hair in a loose ponytail and pull up all the hair up. Don't worry about the ends, let it hang out nevertheless. This will give you a trendy boho look and also draw more attention.

Short Curly Bun
This is indeed a more effortless look to carry for men born with naturally curly hair. Start with making a small bun while the curls hang loosely at the end. It is a suitable hairstyle for every man with long hair and a more refreshing alternative when you don't want a ponytail. Not only do you look irresistible to the ladies but also high on elegance.

Long Sleek Ponytail
This is another fashionable look to earn you brownie points and help you be at your charming best like Jason Momoa. When you have long and straight hair just grab all that mane and tie around the nape of your neck. Also, make use of some men's hairstyling product to smoothen any frizzes and give maximum shine.

Half-Up Pony: jason momoa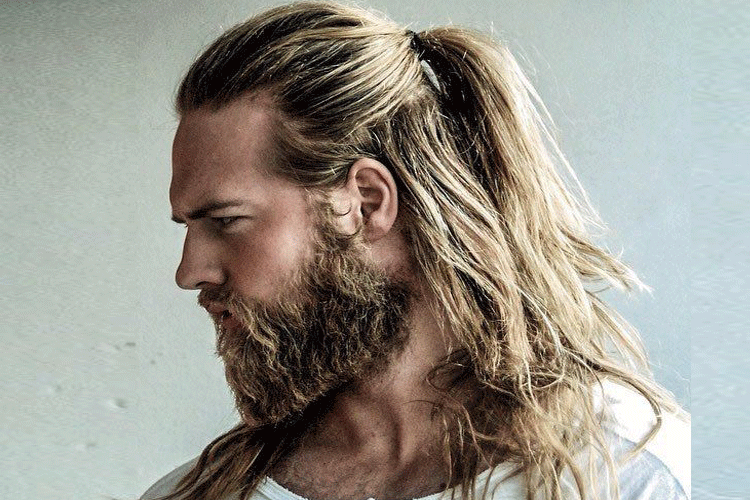 When you are in the mood of experimenting try this look out. To begin with collect half of the hair and pull it into a bun. Keep the remaining hair hanging loose. Enhance your style with this look and be a head turner!

Beard Care Rules to Strictly Follow to maintain the unruly beard!
To begin with, scrub and cleanse your beard using a daily cleanser or beard wash. Also, skip using products with sulfates as these can steal your skin's natural hydration. Cleansing will further keep away the dirt, debris and excess oil from your face.
Even your beard needs hydration just like your skin. Ensure the daily face moisturizer does not clog the pores and contains SPF to protect from UV radiation.
Comb your beard regularly so that the natural oil is distributed evenly throughout. This will give your beard a nourished look rather than a dry look. Include combing as your regular bedtime habit.
Use beard oil or beard balm to keep your mane from going all over the place. This will further help you achieve whatever style you want to rock.
Trim your beard for a subtle cleanup. It also lets you conveniently sculpt your beard in the style you wish to sport. Buy good quality grooming kit to help you through cleaning and trimming.
To embrace a rugged manly look like Jason Momoa you can't be lazy. Take good care of your hair and beard because even the smaller detailing holds utmost importance. Follow the healthy regimen we shared above to make heads turn wherever you go!

Most Recommended