Manscaping Guide For Body Grooming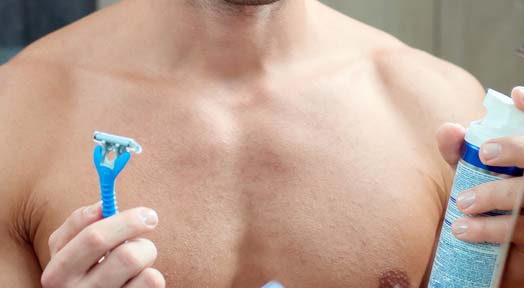 Shaving vs waxing what's best manscaping method. In the modern era shaving and waxing is no longer limited to female grooming in men it's call manscaping. Nowadays, men are expected to be just as smooth and soft as their female counterparts and this often means manscaping. What exactly is manscaping? Manscaping primarily has to do with the removal of hair throughout the body, particularly in the pubic region. Due to its rising popularity, many companies have manufactured products specifically for removing hair on the male body. Of course, there's a personal preference for every grooming method and manscaping is no different. Some men like to shave, others think waxing is the way to go, but in the end there are several factors that will determine whether shaving or waxing is the best method for you.
Shaving vs waxing what's best manscaping method
Shaving.
Since the invention of the modern straight razor men have enjoyed a clean-shaven face and slicked back hair, but with the advent of facial hair designs manscaping razors have come under scrutiny by men everywhere. Shaving involves a lengthy process of wetting the skin, lathering it with shaving cream, and using a razor to remove the hair. In the genital area shaving can be a tricky process. The last thing you want to do is nick your scrotum with a razor blade. However, razors are perfect for other areas of the body like the chest, back, and arms. Some men are even shaving their legs and underarms, which is a whole different level of manscaping. In the end, many men find shaving their pubic area to be the best route for at home grooming, and have even invested in some of the most expensive razor kits on the market today.
Cons to Manscaping with a Razor:
Can be dangerous and awkward in certain areas of the body
Hair grows back much quicker than other methods
Can be expensive over the long-term
Pros to Manscaping with a Razor:
Cheaper than waxing
Less painful than other methods
Can be done in the privacy of your own home
Waxing.
Waxing body hair is a time-consuming process. Most men choose to have it done professionally which involves making an appointment and spending over an hour to have all your hair removed. The process is tedious and extremely painful as well. Also, in areas like the pubic region waxing can not only be painful but it can also be dangerous. For men with sensitive skin waxing can pull on the scrotum to cause tiny tears in the skin which leaves him open to infection during sex. In fact, it can be almost impossible to wax the scrotum area simply because the skin is too thin so it's very hard to perform manscaping.
Cons to waxing:
Extremely painful
Expensive
Not good for sensitive skin
Pros to Waxing:
Removes all of the hair in one clean swipe
Skin stays smoother longer
The finished product is great
In the end, whether waxing or shaving is the best method for you is up to you to decide. If your skin is sensitive your best bet would be shaving. If you have a desire to remove all of your body hair then waxing is the right method for you. As long as it's safe and effective, either method is perfect for manscaping.
Most Recommended