Shaving Necessities All Men Need In Their Kit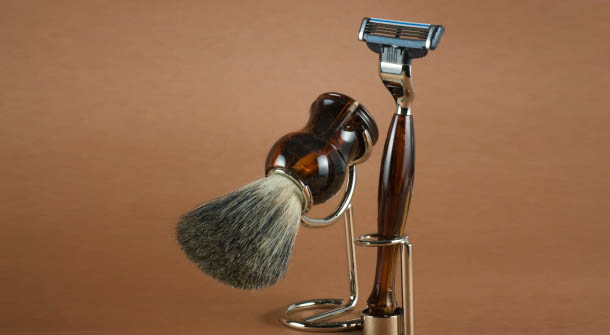 So you have been shaving with men's shaving necessities for years and still can't seem to get that close shave? Or are you one of those guys who has ingrown hair problems? Not to worry you are not alone. Many men are constantly looking for ways to improve their shave. The first step is to make sure you have the right tools for the job with these shaving necessities.
Men's shaving necessities
Pre-Shave Oil:
Before you even start shaving it's good to first wash your face and exfoliate with a sponge then apply a pre-shave oil. This is an important step because it softens the facial hair and coats your skin to prepare for a close and clean shave.
Shave Cream:
The base for your shave is the shaving cream. You can choose between gels, foams or cream. We recommend The Art of Shaving Shave Cream it's great for sensitive skin and you can apply with a shave brush or your fingers.
Blade Razor: shaving necessities
Blades can get confusing and generally it all comes down to personal preference. Depending on how close of a shave you want you can get anything from one blade all the way up to five. The more blades you add the closer of a shave you will get. You should change your blades out after two uses and always thoroughly clean out your razor after each use. If you're not sure where to start the Mach 3 by Gillette has been a long lasting favorite.
Ingrown Hair/ Razor Burn Treatment:
Shaving necessities, Once you have completed your shave you will want to wash and dry your face then apply your ingrown hair/ razor burn treatments. TendSkin makes a great clear liquid solution you can apply to affected areas and seal in your shave.
After Shave Moisturizer:
Once you have gone through your shaving routine you will want to apply a moisturizing aftershave. We recommend a moisturizers over those old school alcohol based liquids that burn your face. Instead of taking the burn use a moisturizer like Nivea's after shave moisturizing balm. This will leave your skin feeling smooth and protect it from environmental factors. Try one with SPF for extra protection.
If you are just starting to build your shaving collection we recommend The Art of Shaving 4 element of Shaving kit: Each kit has the full sized Pre-Shave Oil, Shaving Cream, After-Shave Balm, and Pure Badger Black Shaving Brush.
Most Recommended