The Right Haircut for Your Face Shape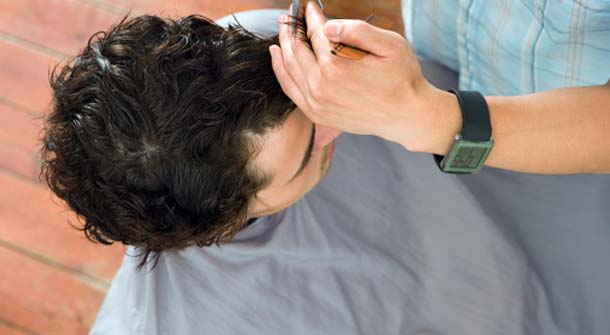 Whether you want to completely revamp your entire hairstyle find right haircut or you just want to switch it up a bit you have tons of choices out there. No matter what you set out to do the first step is to find a reputable barber or stylist and make an appointment ahead of time. Many places accept walk-ins however if you want the stylist or barber to be able to take their time on your haircut it's best to plan in advance.
Top Tips to find the Right Haircut for you
What is your hairtype?
Before choosing a hairstyle it's important that you know your hair type and choose the Right Haircut style that will work for you. You may like the Jake Gyllenhaal haircut you saw on TV but if your hair type isn't compatible with this cut you will be setting yourself up for disappointment.
Thick Curly or Wavy Hair
For thick curly or wavy hair keeping hair short will maintain a business professional neat look. If you want to go longer try a cut like Orlando bloom's with slight layers to reduce volume.
Fine, Straight Hair
Straight, fine hair the Right Haircut should be kept short and can be worn with a slight messy spike or longer looks should be trimmed every 4-6 weeks to keep ends from splitting. These are some great tips for straight fine hair.
Thinning and Balding Hair
For thinning and balding hair the best way to go is super short or shaved off all the way. Longer hairstyles will further enhance balding areas and brushing over will not hide your thinning areas. As your hair shifts naturally or in any type of wind or weather the thinning spots you are trying to hide will be exposed and actually show more of a contrast.
Your maintenance level: Right Haircut
Another important factor is the Right Haircut style that will work with your daily routine and is easy to replicate at home. Also while you are physically in the chair don't be afraid to ask questions on styling tips or give feedback on whether or not you like what they are doing. If you just keep saying that's fine you may end up with a haircut you did not want at all. Don't forget to chose the right product for hair.
Most Recommended