Suit Accessories Complete Guide for Men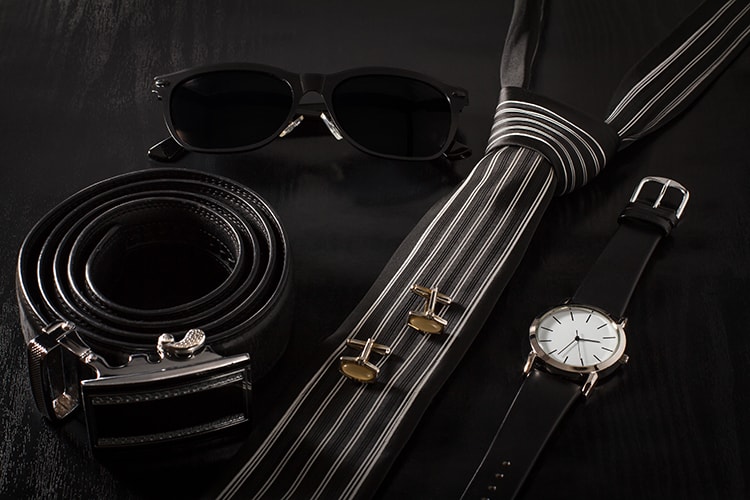 A well-tailored suit is a classic wardrobe staple for every man. However, the right suit accessories can elevate your style, making you stand out from the crowd. In this guide, we'll explore the best suit accessories for men that can enhance your look and showcase your personality. From ties and pocket squares to cufflinks and watches, we've got you covered. So, let's dive in and discover the perfect finishing touches for your ensemble.
Best Suit Accessories For Men
Ties and Bow Ties
Ties and bow ties are essential suit accessories that can make or break your look. A high-quality tie in a timeless pattern or color can add a touch of sophistication and personal flair to your outfit. Here are some recommendations:
a. Silk ties: These are the gold standard for ties. They're soft, luxurious, and versatile, making them perfect for any occasion.
b. Knit ties: Knit ties are a popular choice for a more casual or modern look. They have a unique texture and can be found in various colors and patterns.
c. Bow ties: Bow ties are a classic, elegant accessory that can add a touch of refinement to your ensemble. Opt for a self-tie bow tie to showcase your sartorial skills.
Pocket Squares: suit accessories
A pocket square is a small piece of fabric that's folded and placed in the breast pocket of your suit jacket. They come in different materials, colors, and patterns, allowing you to express your personal style. Here are some tips for choosing the perfect pocket square:
a. Complement, don't match: Your pocket square should complement your tie, but not match it exactly. This adds visual interest and creates a balanced look.
b. Experiment with folds: There are numerous ways to fold a pocket square, from simple and classic to intricate and eye-catching. Try different folding techniques to find the one that suits your style best.
Cufflinks
Cufflinks are both functional and stylish, fastening the cuffs of your shirt while adding a touch of elegance to your attire. They come in various designs, materials, and shapes, so you're sure to find a pair that suits your taste. Some popular cufflink styles include:
a. Classic: These timeless cufflinks typically feature a simple, understated design in silver or gold.
b. Novelty: For those who want to showcase their personality, novelty cufflinks come in a wide range of unique and playful designs.
c. Gemstone: Gemstone cufflinks add a luxurious touch to your outfit and are available in various colors and styles.
Watches: suit accessories
A stylish watch is an essential accessory for any well-dressed man. Not only does it help you keep track of time, but it also adds an extra layer of sophistication to your look. When choosing a watch to wear with your suit, consider the following:
a. Dress watch: A dress watch typically features a slim, elegant design with a leather strap. It's the ideal choice for a formal occasion.
b. Smartwatch: If you prefer a modern, tech-savvy look, a smartwatch can be a stylish addition to your suit ensemble. Just make sure it has a sleek design that complements your outfit.
Suspenders
Suspenders, also known as braces, are a functional and stylish alternative to a belt. They help keep your trousers in place while adding a touch of vintage charm to your look. Some tips for wearing suspenders with a suit include:
a. Opt for button-on suspenders: These attach to buttons sewn inside your waistband, providing a more polished look than clip-on versions.
b. Coordinate with your outfit: Choose suspenders in a color that complements your
suit and other accessories. Neutral shades like black, navy, or grey are versatile options, while bolder colors can make a statement.
c. Adjust for comfort: Ensure your suspenders are properly adjusted for a comfortable fit that keeps your trousers at the right height.
Belts
A high-quality belt can complete your suit ensemble, especially if you're not wearing suspenders. Here are some tips for selecting the perfect belt:
a. Match your metals: Ensure that the buckle of your belt matches the metal of your other accessories, such as your cufflinks or watch.
b. Choose the right width: A belt that's too wide or too narrow can throw off the balance of your outfit. Aim for a belt width between 1.25 and 1.5 inches for a polished look.
c. Coordinate with your shoes: Your belt should be the same color and material as your shoes to create a cohesive appearance.
Shoes
The right pair of shoes can make all the difference in your suit ensemble. Opt for high-quality, well-crafted men's shoes that complement your suit and accessories. Some popular styles include:
a. Oxfords: These classic, closed-lace shoes are perfect for a formal suit ensemble.
b. Brogues: With their decorative perforations, brogues add a touch of character to your outfit while remaining elegant.
c. Monk straps: These buckle-fastened shoes offer a sleek alternative to traditional lace-ups and can be dressed up or down depending on the occasion.
Socks
Don't overlook the importance of socks when putting together your suit ensemble. A stylish pair of socks can add a subtle pop of color or pattern to your outfit. Here are some tips for choosing the right socks:
a. Match your trousers: Your socks should be the same color as your trousers to create a seamless appearance.
b. Opt for quality materials: Invest in socks made from high-quality materials, such as merino wool or Egyptian cotton, for optimal comfort and durability.
c. Embrace patterns: If you want to showcase your personality, consider choosing socks with a bold pattern or design. Just ensure the colors complement your suit and accessories.
Conclusion
With the right men's suit accessories, you can elevate your style and make a lasting impression at any event. From ties and pocket squares to cufflinks and shoes, these essential items can transform your look and help you express your unique personality. Experiment with different combinations and find the perfect balance that suits your taste and occasion. Happy accessorizing!
Most Recommended