Body Hair for Men The Do's and Don'ts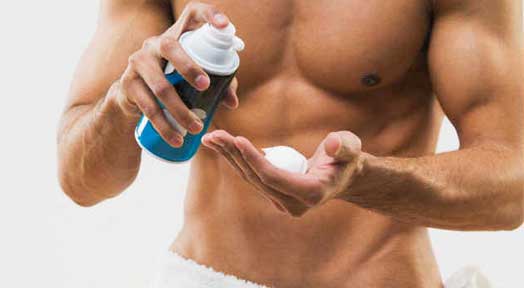 Manscaping has in recent years become more common as what was once acceptable for women only gets a male seal of approval from the masses. However, some men take manscaping to a whole new level grooming so much body hair that the women in their lives might find it a little funny or unattractive. Grooming for men is all about trimming, sculpting and shaving without overdoing it and taking on a less attractive look. So how can you tell what needs to be done and what needs to be left alone? There are a few standard dos and don'ts of body hair for men when it comes to body hair that every man should follow, so take a look below.
The dos and don'ts of body hair for men
Do Remove Shoulder and Back Hair
Some women find a man's hairy body attractive, but they are usually few and far between… especially when it comes to shoulder and back hair. So do yourself a favor and get rid of the hair along your shoulders and back because very few women will run their fingers through your back hair and find it a turn on.
Don't Shave Your Armpits
Though it doesn't make much sense when you think about it, bare armpits are strictly for the fairer sex. A bare armpit for many women though not unattractive is a strange sight that can detract from your manly muscles and trim physique.
Do Trim Your Armpit body Hair
Though bare underarms are on the "don't" part of this list, underarm hair that is so bushy that it takes a weedwacker to get through to the skin is just as bad and is badly in need of a trim. A sight like that will turn a woman off quicker than you can say weedwacker. Trim your armpit hair to a manageable level to keep your lady happy and to avoid tangles or unsightly peek-a-boos when you wear sleeveless shirts.
Don't Shave Patterns into Your Body Hair
Sure a pattern shaved head is one thing, but shaving the face of LeBron James into your chest hair is a completely different story, especially for pubic hair. A cheesy little arrow pointing down is more likely to get you laughed at and walked out on than to get you a little action, so curb that little voice in your head that says it's an awesome idea and just say no!
Do Trim Your Pubic Hair
Just like with your armpits, a bushy pubic area body hair is going to turn women off before you get very far in the bedroom. Women don't like to battle through the forest to get to the treasure, so trim the area to make sure that your significant other finds that area pleasing as possible.
Don't Go Bare or Brazilian in the Pubic Area
Sure you probably find a woman's bare pubic area attractive, but for a woman the same isn't true. Unless you're a professional athlete and need to keep resistance down when you compete, a bare pubic area on a man is just plain weird.
Most Recommended