Good Jeans for Men: How To Find The Perfect Pair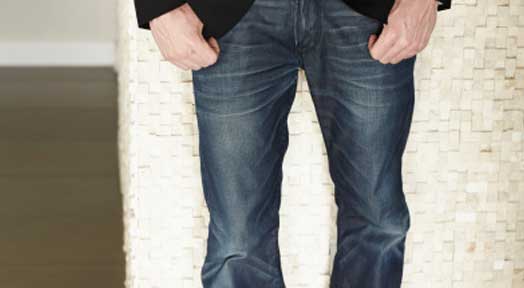 As workplace fashion continues to lean towards more casual styles – good jeans for men is an essential in every male wardrobe. In fact, a couple pairs are probably your best bet to make sure you can dress for nearly every occasion that doesn't warrant a suit or tuxedo.
As a rule of thumb, stick to medium blue for everyday wear and darker blue or indigo for evenings, date nights and dressier events. Avoid "fashion" colors like green, brown, white and solid black as these up the difficulty level on appropriately coordinated shirts, belts and footwear. A good neutral blue will go with any shirt in your closet. Also steer clear from studded, ripped, and accent patterns. They all just serve to 'date' your jeans and make you have to replace them as styles change.
Pick the correct rise for your body type
Jeans in a man's closet should be classic. The waistband should fit low, just above the hips and below the bellybutton. Go for a single-button top closure and a zipper or button fly (don't be that guy that wears the lace-up crotch, no matter what the salesperson tells you). And don't be rigid about your waist size. If you're squeezing into a 34, you'll look worse than if you slide right into a 36. Nobody is going to look at your tags so make sure your fit is right and don't focus on the size.
Finding the right style for you
Along those lines, no man needs a "skinny" or "slim fit" jean – get a classic bootcut which will flare just slightly from the knee down to the ankle. This is not to be confused with flared jeans, which are even more pronounced. Wash every 2-3 wearings unless you have a spill or mess and leave out of the dryer to help keep them loose and comfortable. When shopping for jeans don't be afraid to reach out to the salesman to help you find the right cut and rise to best compliment your frame.
Most Recommended