Men's Fall Fashion Guide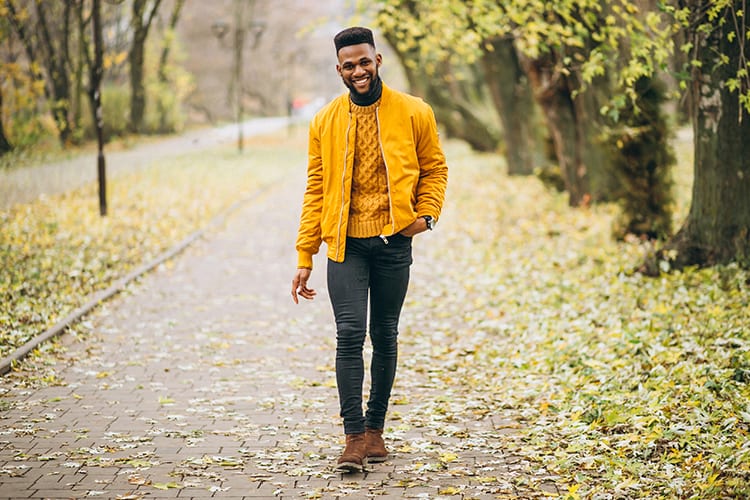 As the temperature drops and the leaves begin to change, it's time to start thinking about updating your wardrobe for the cooler months. In this Men's Fall Fashion Guide, we'll delve into the top trends and styles that will help you look sharp and feel confident this season. From layering essentials to stylish accessories, we've got you covered with of fashion-forward advice.
Men's Fall Fashion Guide Step Up Your Style Game This Season
Master the Art of Layering
Layering is the cornerstone of fall fashion, allowing you to stay warm while looking polished. Here are some key layering pieces to incorporate into your wardrobe:
Start with a basic crewneck or V-neck t-shirt in neutral colors like white, gray, or black. These can be worn alone or as a base layer under other pieces.
A well-fitting dress shirt in solid colors or subtle patterns will be your go-to for both casual and dressier occasions.
Crewneck or V-neck sweaters in versatile shades like navy, burgundy, or camel are perfect for layering over dress shirts or t-shirts.
Don't forget about a quality blazer or sports coat. These can be dressed up with a tie or dressed down with jeans for a more casual look.
Lastly, invest in a stylish fall jacket or coat, such as a pea coat, field jacket, or trench coat, to keep you warm and protected from the elements.
Embrace Seasonal Colors and Patterns
When it comes to colors and patterns for fall, think rich and earthy. Deep burgundy, forest green, and burnt orange are all excellent choices for injecting some seasonal flair into your wardrobe. Additionally, classic patterns like plaid, herringbone, and tweed add texture and visual interest to your outfits.
Update Your Denim Game
Denim is a year-round staple, but it's essential to choose the right styles and washes for fall. Opt for dark wash jeans in slim or straight cuts, as they can be easily dressed up or down. Pair them with a crisp white shirt and blazer for a night out or wear them with a cozy sweater and boots for a relaxed weekend look for men's fall fashion.
Invest in Timeless Boots
A solid pair of boots is a must-have for any man's fall wardrobe. Not only do they provide protection from the elements, but they also add a rugged, masculine touch to your outfits. Invest in a quality pair of leather or suede boots in a versatile color like brown or black. Popular styles include Chelsea boots, chukka boots, and brogue boots.
Stay Warm with Stylish Scarves
Scarves are not only practical for keeping you warm during chilly fall days, but they also serve as a stylish accessory to elevate your outfits. Choose scarves in rich, seasonal colors or patterns, like plaid or herringbone. When tying your scarf, opt for simple knots like the once-around or Parisian knot for a polished look.
Accessorize with a Fall Hat for men's fall fashion
A fashionable hat can be a great addition to your fall wardrobe. Whether you prefer a flat cap, fedora, or beanie, choose a hat in a neutral color or subtle pattern that complements your other fall clothing. Remember, the hat should enhance your outfit, not be the center of attention.
Don't Forget Your Outerwear
As the temperature drops, you'll need a quality coat to keep you warm and stylish. Invest in a versatile, well-fitting coat that can be worn with both casual and dressy outfits. Popular options for fall include pea coats, trench coats, and field jackets. Choose a coat in a neutral color like black, navy, or charcoal to ensure it matches with the
rest of your wardrobe.
Mix and Match Textures
Fall is the perfect time to experiment with different textures in your outfits. Mixing textures can add depth and visual interest to your look. Pair a chunky knit sweater with slim-fitting corduroy pants or layer a smooth, suede jacket over a crisp, cotton dress shirt. Just remember to keep the rest of your outfit simple to avoid clashing or overwhelming the eye for your men's fall fashion.
Upgrade Your Sock Game
Socks are often an overlooked element of an outfit, but they can add a pop of color or pattern to your fall ensemble. Look for socks in autumnal shades and patterns, like argyle or herringbone. When wearing bold socks, make sure the rest of your outfit is more subdued to maintain a balanced look.
Choose the Right Belt and Watch
To finish off your fall outfits, it's important to select the right belt and watch. A leather belt in a versatile shade like brown or black will complement most of your fall wardrobe. When it comes to watches, consider a classic leather-strapped watch or a minimalist metal timepiece. These styles are timeless and will work well with a variety of outfits.
Conclusion
With this Men's Fall Fashion Guide, you're now equipped with the knowledge and inspiration to revamp your wardrobe for the season. By investing in key layering pieces, embracing autumnal colors and patterns, and selecting versatile accessories, you'll be well on your way to looking your best this fall. Remember, confidence is key – when you feel good in your clothes, it will show. Happy styling!
Most Recommended