Men's Shoe Styles for The Everyday Man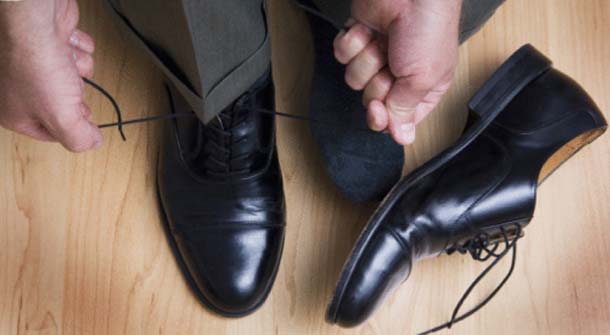 Let's finally put a popular myth to rest – men actually DO need more than 2 pairs of shoes. Brown and black are far from the only fashion options worth covering these days. In reality, a modestly fashion-conscious man should own right around 7 or 8 different pairs. So let's discover the different men's shoe styles that you need to add to your wardrobe.
Men's Shoe Styles to have in your closet
Start with utility:
Gym shoes and gym/pool sandals or flip flops (ones that can get wet without getting ruined). You may need more than one pair of workout shoes for indoor and outdoor workouts. Then think casual fashion: one to two pairs of dressy sneakers or fashionable loafers or lace-ups, and a casual pair of sandals or flip flops.
After that it's all about style: men's shoe styles
the obligatory brown and black dress shoes but then also a pair of formal wear shoes like black patent leather. Anything you add past that is at your discretion. Some men like to keep an extra pair of gym shoes for outdoor sports or trail running. Others find they need more options when it comes to business attire and men's shoe styles.
What's important to remember when shopping is to bring gym socks for trying on gym shoes and dress socks for trying on dress ones also. It's key to ensuring a proper fit. The last thing you want is to head out for a run with your thick running socks only to find out your shoes are too tight and need to be returned.
Shop at the end of your day
Other tips to keep in mind, shop at the end of the day when your feet are at their most sensitive and largest (oh yes, feet grow and swell during the normal course of a day). So head to the mall or wherever you buy shoes after a full day of activity, doing so will help provide a comfortable fit any time of day.
Most Recommended