Men's Style Rules Every man Should Follow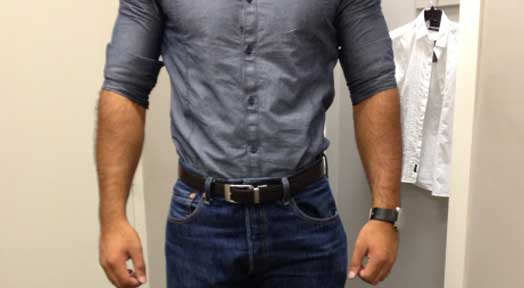 Style rules every guy should follow fashion Style rules for men is very tricky whether to tuck it in or out or what socks to wear for the outfit men need a little guidance from time to time when it comes fashion. Check out this simple list of style rules that every guy should follow to help you be on your way to style success.
Here are 7 men fashion style rules every guy should follow
1. Flip-Flops are Strictly for the Beach
This "shoe" has found itself quickly becoming the go-to footwear for men the world over because they're so convenient. However, does the convenience of them out weight the annoying flip-floppity noise you make wherever you go? Additionally, unless you're wearing a pair of board shorts and a muscle t-shirt (or aptly termed "beachwear"), flip-flops probably don't really go with your outfit of choice for men's style rules.
2. Dress for Success
Whether you have a low paying office clerk job or an executive position with a Fortune 500 company, you should always dress for the job you want, men's style rules (or have). Not only does it put you in the right frame of mind, it shows the higher-ups that you have the right stuff for a more responsible position in the company.
3. Never Match Denim with Denim
A great pair of jeans can take a so-so look and give it a bit of sex appeal and style without going over the top, but topping those off with a denim jacket or shirt… well, you've just taken a look that would have made the ladies swoon and now makes them run for the hills. Take a look at men's style rules.
4. Don't be a Tucker
All too often men get a little too tuck-happy trying to hide their slight paunch beneath an aggressively tucked in shirt. However, this can backfire if you do it too much. For the most part unless you are looking to dress up the look, leave the shirt untucked. If you must tuck, do it lightly and with a little give in the fabric as to keep it from accentuating your stomach's girth.
5. Always Have a Few Backups: men's style rules
Smart and savvy men always have backups for the moments when life throws a curveball better known as a messy lunch. Having a few shirts and pants on hand in your car or at your desk can save you a lot of trouble when accidents happen, keeping you from finishing out the day with marinara sauce on your shirt from the meatball sub you had at lunch.
6. Do the Sock Test: men's style rules
A quick rule of thumb, if you can see your socks as you walk your pants are too short. This simple test can keep the overall look of your pants sophisticated and stylish without creeping into the hipster/geek territory.
7. If You're Asking for Money, Wear a Tie
Say you're headed to your bank to apply for a loan on a new car, house, business, etc… a great rule is to always wear a tie when asking for money. Looking professional and like an upstanding member of society can never do you wrong.
Most Recommended