Ways to Make Teeth Whiter Naturally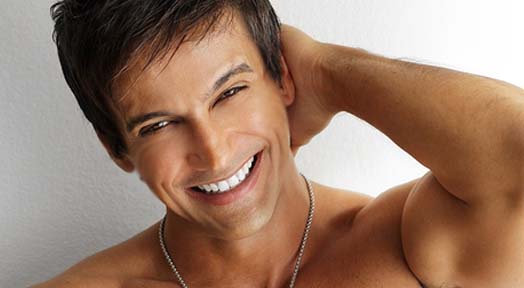 How to get healthier whiter teeth naturally. Having whiter teeth is oftentimes a boon to a man in both his professional and private life, from helping to dazzle women with a pair of pearly white teeth to giving off a professional appearance that helps close a business deal. Here are some ways to get whiter teeth.
How to get healthier whiter teeth naturally
Of course getting white, healthy teeth isn't as easy as you'd think if you aren't willing to take the chemical route of teeth bleaching and so forth. Luckily there are ways that you can promote healthier, whiter teeth easily if you follow some daily/weekly practices like these:
Brush & Floss After Every Meal
You would be surprised at how much just brushing and flossing after each meal can help to promote healthy, whiter teeth. Many people think that just brushing once or even twice a day will cut out flossing, but when you eat you are introducing food particles to your teeth that can breakdown the enamel, stain the teeth and create a germy environment that aids in tooth decay.
Start a Diet for White Teeth
You might ask what exactly a "white teeth diet" is, basically it is avoiding foods and drinks that will stain you teeth… foods such as red wine, dark gravies, tea, tomato sauce, etc can stain your teeth overtime and give the appearance of yellow, unhealthy teeth. If you can't avoid these food all of the time, make sure to at least cut down on the amount of dark foods your eat and be sure to brush right after to reduce the time they have to stain your teeth.
Eat Course/Firm Foods
There are certain foods that can help you in your effort to have whiter, healthier teeth by cleaning and polishing your teeth, gums and tongue while you chew. Foods such as raw carrots, celery, water chestnuts, apples, popcorn and so forth will help do the job. These foods are great as the last part of your meal if you aren't able to brush right after as they can help remove other food particles that might be stuck in the crevices between your teeth.
Brush Once a Week with Baking Soda
In the past before the creation of teeth bleaching agents and whitening toothpaste, baking soda was the way to go if you wanted to have whiter teeth. The baking soda works naturally to bleach your teeth without harming the enamel or your gums, so once a week use a small dab of baking soda instead of toothpaste to brush your teeth with. Additionally, if you don't have baking soda on hand you can use salt as well as it works to gently, but firmly buff away stains and food particles that are clinging to your teeth.
Use Apple Cider Vinegar as a Mouthwash
If you don't want to use the most chemically, harmful mouthwashes found in stores you can use apple cider vinegar instead as it works much in the same way to whiten teeth and remove bacteria that has found a home in various areas of your mouth. Use a small mouthful of the vinegar in the mornings before brushing your teeth and you will find yourself with whiter teeth before your know it.
Most Recommended