Best Unhealthy Late Night Snacks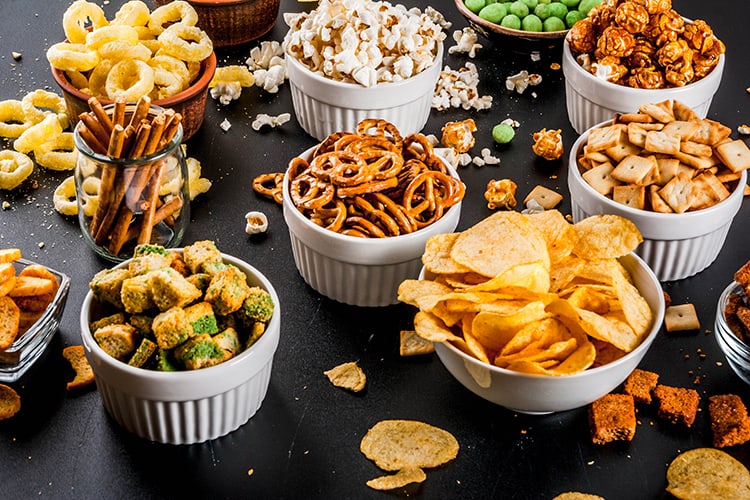 Sometimes, after a long day of work or study, you just want to kick back, relax, and savor something that's not exactly on your everyday healthy food list. As the moon takes over the sky and the silence of the night creeps in, your stomach may start to crave an indulgence that might make your dietitian grimace. This blog post is dedicated to those guilt-laden moments. Here is our take on the best unhealthy late-night snacks.
The Guilty Pleasure Guide: Best Unhealthy Late Night Snacks
1. Cheese-Laden Nachos
There's something about the combination of the crunchy corn chips, gooey melted cheese, tangy salsa, and creamy guacamole that makes cheese-laden nachos the perfect late-night indulgence. It's an explosion of flavor in every bite. Sure, it's far from a kale salad, but the flavor profile makes up for its dietary shortcomings.
2. Ice Cream
Ice cream is a classic when it comes to late-night snacking. The sweet and creamy delicacy is perfect for winding down the day and treating your taste buds. Choose from traditional flavors like chocolate, vanilla, and strawberry, or opt for gourmet options like salted caramel or raspberry ripple. Whichever flavor you prefer, ice cream promises a delightfully rich and satisfying end to your day.
3. Pizza
Pizza is the poster child for deliciously unhealthy snacks, and it's even better late at night. Imagine the crunch of the crust, the rich tomato sauce, the melting cheese, and your favorite toppings, all in one heavenly bite. Whether you prefer pepperoni, veggie supreme, or the contentious but undeniably popular Hawaiian, pizza never disappoints as a late-night indulgence.
4. Burgers
The mouthwatering combination of juicy meat, cheese, fresh vegetables, and tangy sauces sandwiched between two soft buns makes the burger an ultimate unhealthy late-night snack. Pair it with some crispy fries and you've got a late-night feast that can make even the staunchest health nut's mouth water.
5. Chocolate
Few things in life are as satisfying as breaking off a piece of chocolate and letting it melt in your mouth. The sweetness and rich flavor are the perfect treat for the end of a long day. From dark chocolate with its hints of bitterness to milk chocolate with its creamy, sweet taste, there's a variety to suit everyone's preference.
6. Donuts
What can be more satisfying than sinking your teeth into a soft, fluffy donut with a sweet, creamy center? Whether you prefer the classic glazed, the dusted sugar, the chocolate-filled, or the jammy, donuts are an amazing unhealthy snack to enjoy late into the night.
7. French Fries
Whether you make them at home or order from your favorite fast-food joint, French fries are an irresistibly unhealthy late-night snack. The satisfying crunch of the outer layer, the softness of the inside, and the addictive saltiness is comfort food at its finest.
8. Potato Chips: unhealthy late night snacks
A bag of potato chips is easy to reach for when late-night hunger strikes. Whether you prefer the classic salted variety or are a fan of flavors like sour cream & onion or barbecue, these thinly sliced and deep-fried potatoes are quintessential snack food.
9. Fried Chicken
A crispy exterior, tender and juicy on the inside, fried chicken is a late-night snack that's hard to beat. Pair it with your favorite dipping sauce, and you've got yourself a finger-licking good feast perfect for those midnight munchies.
10. Cheesecake: unhealthy late night snacks
Ending the list on a sweet note, cheesecake is an amazing late-night indulgence. Its creamy richness, often combined with the crunch of a biscuit base and the tartness of fruit toppings, is a textural and flavor paradise. Whether you're a fan of classic New York-style, tangy lemon, or rich chocolate, a slice of cheesecake can be the ultimate guilty pleasure to satisfy your late-night cravings.
And there you have it, our top ten picks for the best unhealthy late-night snacks. Remember, although these treats are deliciously addictive, they are best enjoyed in moderation. Eating a varied and balanced diet is crucial for maintaining good health, but there's always room for a little indulgence every now and then.
sweet indulgence: unhealthy late night snacks
These snacks are perfect for those late nights when you want to reward yourself or simply can't resist the urge to munch on something tasty. Whether it's the savory comfort of cheese-laden nachos, the satisfying crunch of potato chips, or the sweet indulgence of ice cream and cheesecake, there's a late-night snack on this list to satisfy every craving.
So, the next time you find yourself staring into your fridge or pantry late at night, don't feel too guilty about reaching for one of these treats. After all, we all deserve a little bit of delicious indulgence once in a while. The key is balance and knowing when to say when. Happy snacking!
Most Recommended