Eat Healthy And Cheap With Lunchbox Ideas

Even with a busy schedule, there are so many ways that you can eat healthy food. The healthy options are everywhere, popping up on your social media feed, in health magazines or an advertisement on TV. With a little inspiration and motivation to push you towards a healthy diet, you may just find out how delicious it can be. However, when it comes to day-to-day life between going to work, gym and family obligations. How do you maintain the equilibrium between a healthy lifestyle and a fast-track one? The answer is fighting the temptations and planning ahead. If you want to know more about various ways to eat healthy foods, even with a crazy lifestyle see some options below
Ways to eat healthy foods at work.
Vegan Lunch Box to eat healthy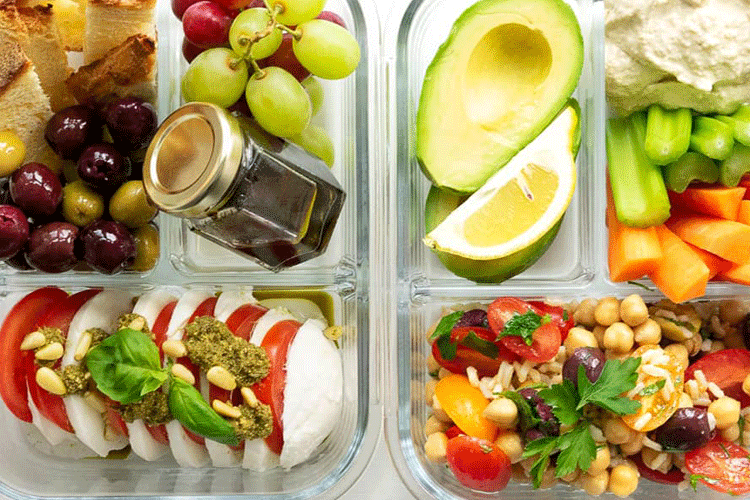 Let's start off with a vegan idea. This scrumptious vegan lunch box is perfect for a weekday lunch. Make for a simple but tasty vegan salad by mixing olives, chickpeas, cherry tomatoes, parsley, olives and season with a little salt and pepper. Add in some pre-cooked brown rice and drizzle some olive oil to the mix to make this a delicious vegan salad. Finish off the lunch box with a side of avocado, lemon wedge and veggies like celery and carrot sticks, which you can dip in some hummus. If you want to make it vegetarian you can add some buffalo mozzarella and tomatoes or leave it off for a total vegan delight.
Greek Lunch Box to eat healthy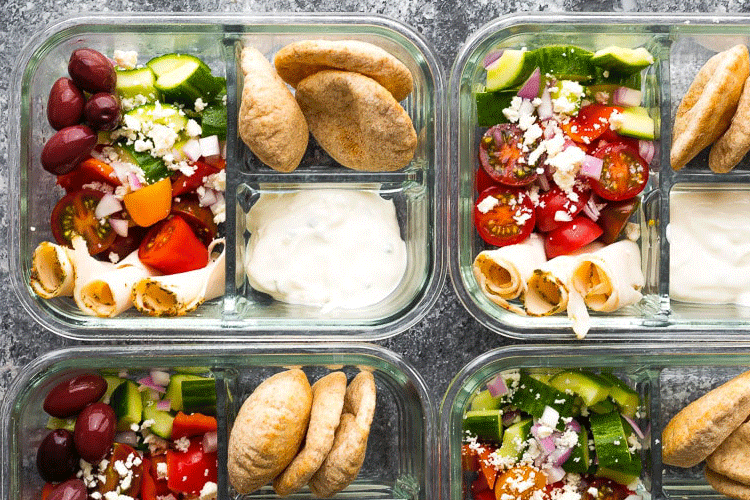 This Mediterranean lunch box idea is filled with greek goodness. First thing first, put together a salad by mixing in cucumber, chickpeas, tomatoes, feta cheese, parsley, olives, and a drizzle of olive oil some seasoning of salt, and pepper. Put in some mini pita bread to add in some carbs and serve with dipping sauce and a lemon wedge to complete the meal. It is like summer in a lunch box and also very healthy and filling and you can put this on your eat healthy foods list.
Asian Chicken Salad Lettuce Cups to eat healthy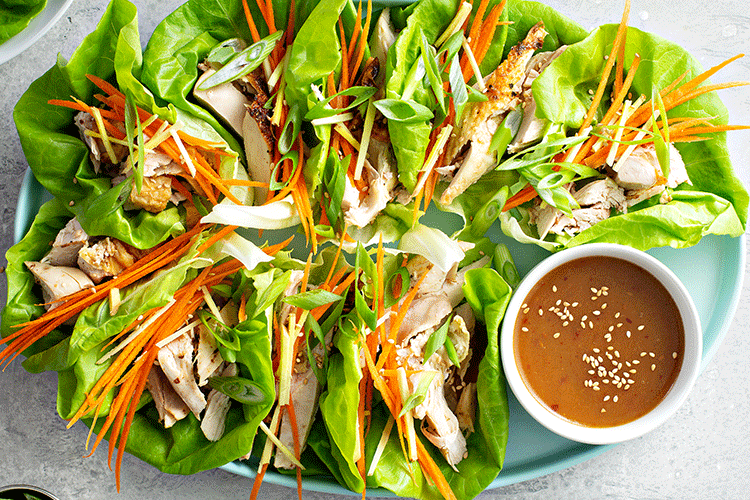 A healthy scoop of cooked chicken mixed with water chestnuts, onions, spicy peanut sauce, chilli flakes, mint leaves and salted peanuts served wrapped in a lettuce leaf is a tasty option for lunch. You can elevate this with a side of a granola bar and orange to make the lunch box complete. You are getting the right amount of protein, greens, and fruits for a healthy meal. Also, it is full of flavor and fills you up without making you feel guilty.
Avocado Shrimp Salad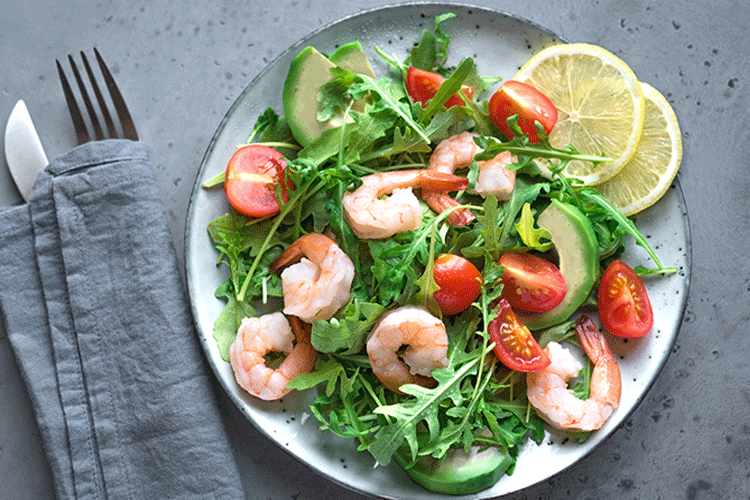 Mix in a combination of arugula, olive oil, lemon juice, and garnish with salt and pepper. Add in some shrimp, avocado, tomato, and herbs to give it the right mix to combine it well. Add dressing to the salad and coat it evenly. We prefer it refrigerated for 30 minutes in order to let the flavors infuse. You can add in a side of olives and crackers to make it a well-balanced lunch, and there you go.
Sesame chicken noodle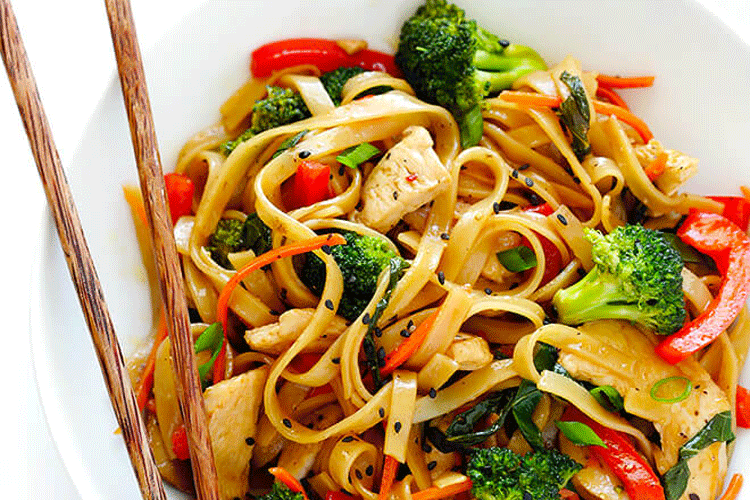 This delicious salad surely packs a punch when it comes to healthy eating. Not only is it healthy and yummy, but it also keeps you full for a long time. A lunch that is easy to prep and can also be made with pre-roasted chicken. What's not to like? Mix together the ingredients like tahini, soy sauce, lime juice, roasted garlic, and sesame olive oil. Add some water to make it creamy and add chili flakes as per preference. Add the cooked noodles, roast chicken and mix everything evenly. Add some carrot, cucumber and mint to add some freshness. There you go- a bunch of flavor packed in one lunchbox. This can be made ahead for dinner the night before and packed up to go for lunch the next day.
Butternut Squash Lentil Curry with Rice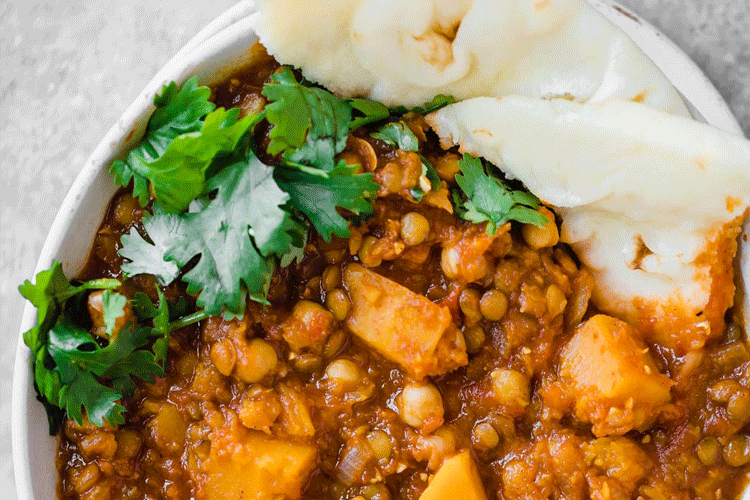 What makes a hearty meal which heals the soul? Anything with curry in it! Crank up your slow cooker and make a butternut squash curry with lentils. This creates an excellent freezer meal and is also vegan-friendly, and you can add coconut milk to make it more flavorsome and creamy. You can pack it with some brown rice, a side of greens and fruit to make it a lunch which will keep you full for hours.
Cooked Quinoa, Roasted Veggies and Chicken Breast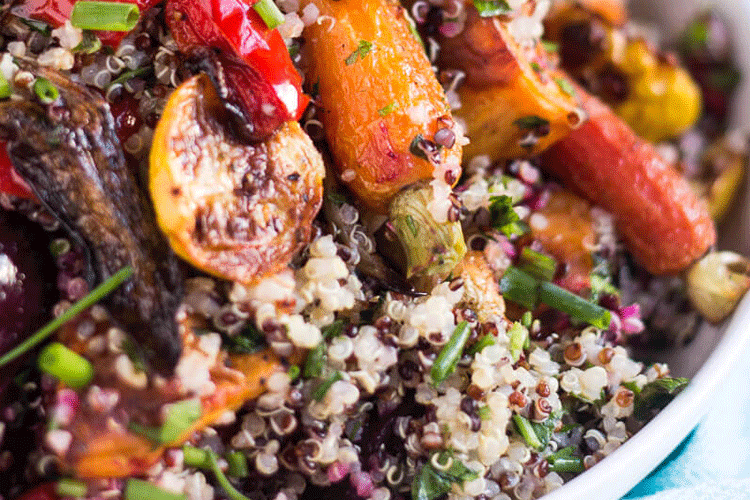 Quinoa is known for being incredibly healthy. Prepare some quinoa with some vegetable stock, roast up some classic vegetables like carrots, broccoli and peppers and add some roasted chicken to the mix. It is a filling meal right there! Add in a side of mixed nuts and some grapes, and you are good to go. Not only is it tasty and filling, but it perfect for eating healthy.
Easy Pasta Salad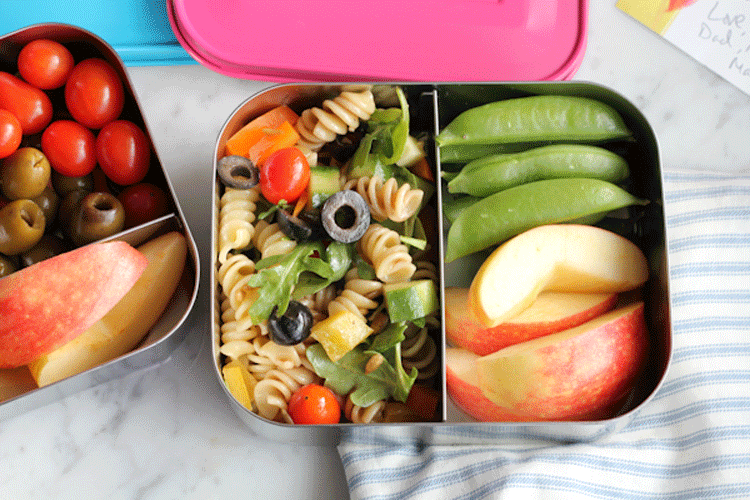 What is the easiest lunch idea in the history of lunch ideas? It's a pasta salad, of course! Take a bowl and add leftover pasta, zucchini, red onion, tomato and bell peppers. Add in some chopped ham. Make a simple salad dressing with some roasted garlic, Italian sauce and vinaigrette and give the salad a good toss to evenly coat it. Add in a side of apple slices and pea pods and balance it out.
Italian Lunch Box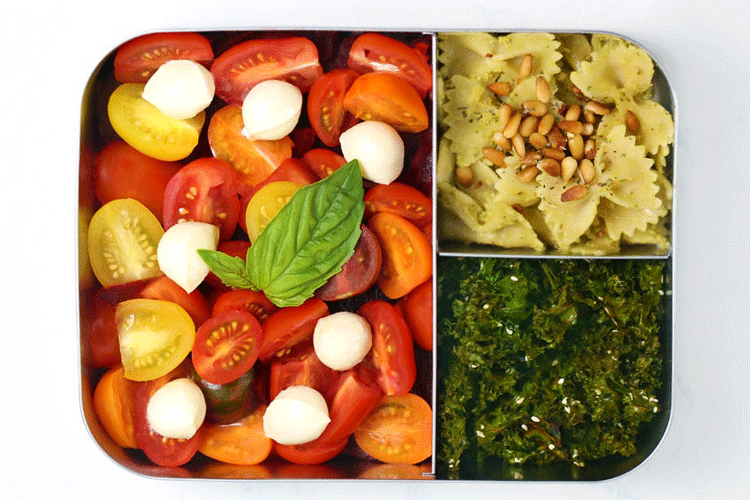 If you love all things Mediterranean, this might just be the lunch idea for you. Everything in this lunchbox will remind you of an Italian summer and the smell of vacation and fresh basil! Whip up a quick Caprese salad with some fresh mozzarella, tomatoes, and basil and garnish it with some olive oil and pesto. Serve with a side of bowtie pasta, and sauteed kale and voila! You are sorted for a quick ride to Italy during your lunch break!
Three Bean Pasta Salad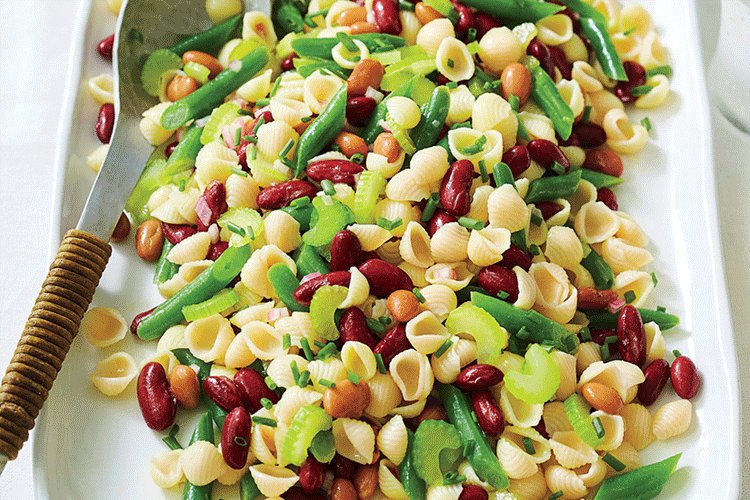 Easy and healthy, this is the perfect salad to use as a side or for a complete meal. Just make ahead and you will have days of great eating. Start by boiling a large pot of salted water and cook the pasta until it is al dente. Add in some green beans and stir it for 3 more minutes. After everything is cooked, drain the pasta and rinse it with tap water. Take a bowl and mix in mustard, honey, vinegar, and oil. Now add in the pasta and bean mixture along with kidney or pinto beans and chickpeas. Stir in scallions and celery and give it a gentle toss. Season the salad with salt and pepper. You can use this salad as a side to your meal or as a filling for your sandwich and it works great both ways.
Miso Sweet Potato and Broccoli Bowl to eat healthy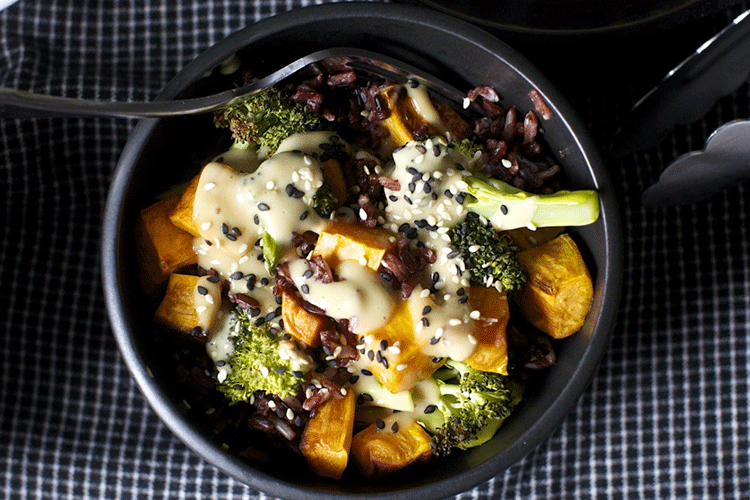 Start by peeling some sweet potatoes into cubes, cutting broccoli into small florets. Take a baking tray and add sweet potatoes along with some olive oil and salt and pepper and roast for 20 minutes, until it starts to brown. Toss the potatoes and add in the broccoli and roast for another 10 to 20 minutes. Toast some black and white sesame seeds and keep them separately. Now prepare the sesame-miso dressing by combining minced fresh ginger, garlic clove, white miso tahini, honey, sesame oil, olive oil, and rice vinegar together in a blender. Let the dish come together by assembling the bowls with the vegetables, the dressing, and the toasted sesame seeds and enjoy!
Pesto Chicken Roll to eat healthy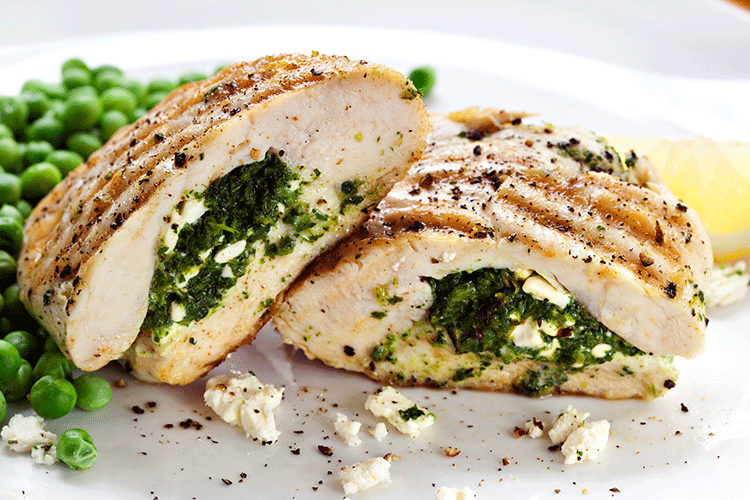 This is the perfect balance of a healthy and tasty lunch box and it is pretty easy to whip together. Cut up a small roast chicken breast and add in cubed mozzarella, pesto, and any vegetables of your choice. You can customize it to your taste. Scoop in the filling on some bread of your choice and enjoy eat healthy power foods and hearty lunch. This is easy to prep and can be stored for days and is extremely versatile. Also, it is extremely tasty which never hurts!
The urban lifestyle is full of attractive temptations, and falling prey to online ordering services and the go-out-for-dinner lure can be as easy and sometimes hard to eat healthy foods. However, with discipline and persistence, you will be able to get where you want to. Packing a lunch box sometimes might be just healthy for lifestyle. If you don't want to be caught in the continuous loop of eating out, feeling guilty and not doing anything about it, this is the time to make a change. The simple act of packing a good nutritious meal will not only save a lot of money but will ensure that you are eating right. You not only have complete control over the ingredients that you put in your body but also over the portion sizes. So consider more lunch box ideas.
Most Recommended