Grill Fish and Vegetables Recipes for Men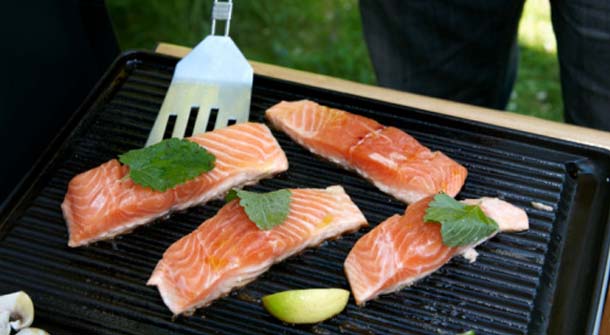 Grilled fish recipes for men. Living in a fast paced, fast food nation it's no wonder why obesity is at record levels in the US. We are doing our part by helping men find recipes that are healthy, easy to make, and easy on the pockets.
Easy grilled fish recipes for men to up your chef game
Here is a healthy and fit recipe for that want to learn how to make a real meal. A great recipe to have up your sleeve is one packed with omega-3's – grilled fish. There are a few cooking techniques that are predominately male and grilling is at the top of our list. So grab a filet and get grilling.
Health Fit Recipes for Men Part 1
Ingredients:
Fish Filets ½ lb. each with skin on (Snapper, Salmon or Mahi-Mahi)
1 ear of corn per person
1 large Zucchini
Olive Oil
Salt, Pepper, Fish Seasoning Grill Fish
Method:
1. Clean fish filets and dry thoroughly. Lightly brush fish with olive oil and sprinkle on salt, pepper and fish seasoning to taste. Set aside.
2. Shuck corn and cut zucchini length wise into 1/8 inch thick strips. Brush corn and zucchini with olive oil and sprinkle with salt and pepper. Set aside. for the fish to Grill
3. Heat grill on medium heat apply corn, and zucchini and rotate every 5 minutes until tender and grill marks are present. Corn should have a slight char and the zucchini should be tender. Total cook time about 20 mins.
4. After the first rotation on the vegetables place fish on grill for 5 minutes then rotate for another 5 minutes.
Remember to continue to lightly coat with olive oil to prevent the fish from sticking to the grill. Cook until fish is cooked through (approx. 15 minutes) and internal temperature is 145 degrees F.
Place your meal on a serving plate and enjoy with your favorite light beer or a glass of cold white wine. This recipe is sure to impress any lady in your life or is great to enjoy solo. Who knew healthy eating could taste so good.
Most Recommended