Health Benefits of Peanut Butter and Why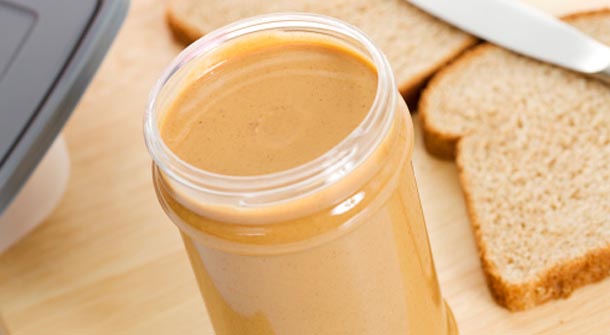 Peanut butter is creamy and delicious and can be used in everything from savory dishes to decadent desserts, but did you know that there are many health benefits of peanut butter when it comes to improving your health? Peanut butter is one of those foods that gets a bad rap with a higher fat and calorie count, but can actually help with things like weight loss, muscle building and overall nutritional health if eaten regularly.
the healthy benefit of peanut butter.
Of the many health benefits of peanut butter, both big and small, we've listed 4 reasons why peanut butter does your body good.
1. Peanut Butter Helps with Weight Loss
If you are one of the many overweight Americans today you've probably looked for ways to lose weight and bypassed peanut butter pretty quickly as a good weight loss food source. However, one of the benefits of peanut butter it that it is packed with fiber (about 2g per serving) and protein (about 8g per serving) that helps you to fill up quicker and stay full longer. Because you are staying full for longer periods of time you won't be eating as much, helping you in your effort to lose weight.
2. Peanut Butter is Enriched with the Good Kind of Fat
One of the other benefits of peanut butter is that it is filled with monounsaturated fat that is good for your heart and for your body. Studies have found that monounsaturated fats can help to reduce belly fat, lower cholesterol and reduce the risk for heart disease and stroke.
3. health benefits of peanut butter it is Loaded with Healthy Nutrients
Peanut butter is good for more than weight loss as it is loaded with healthy nutrients that help your body function properly and at a higher efficiency. The heart healthy food is packed with nutrients such as vitamin E (a powerful antioxidant), magnesium (a mineral that help build strong bones), potassium (a muscle friendly mineral) and vitamin B6 (an immune boosting vitamin). These healthy nutrients can help your body function better as well as help to lower the risks for diseases and illnesses such as diabetes and other chronic health conditions.
4. Peanut Butter is Full of Protein and Fiber that Gives You Energy
For those who are looking to bulk up or merely have a more active lifestyle, another of the benefits of peanut butter is that it is highly effective in providing long lasting energy for the body. Eating a serving of peanut butter before intense exercises can help you to stay full during the workout and help you to retain the energy you need to complete the entire workout.
Most Recommended