Healthy Fast Food Lunches on the Go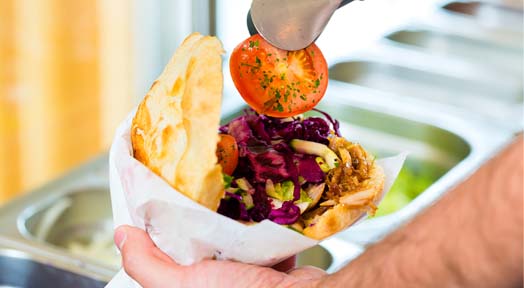 The words 'healthy' and 'fast food' generally don't appear in the same sentence as one another all that often, but even so, just because something is classed as being "fast food" this doesn't automatically make it all unhealthy. It's unfair to tar everything with the same brush, so to speak, meaning that just because something is being served in a fast food restaurant, it shouldn't automatically be considered unhealthy, or bad for you. That being said, most fast food restaurants serve greasy cheese burgers, deep fried products, battered products, sugary products, and foods high in salt, saturated fat, and other artificial ingredients, flavorings, and preservatives.
Healthy fast food lunches go
As fast food is generally so unhealthy, knowing which foods you should order when you're trying to be healthy can be extremely useful. No doubt some people will be saying things like "just don't eat there in the first place" but sometimes eating in these establishments is the only option, as eating anything is better than nothing. Also if you know what to order and look for, you can still enjoy a quick, delicious, and relatively healthy fast food meal, allowing you to still lose weight and stay on track with your fitness goals.
Look for fruit bags
Many fast food restaurants now stock small sized fruit bags, aimed mainly at children. Just because they're aimed at children, this doesn't mean you can't order one or two for yourself. Fruit is packed full of natural goodness, including vitamins and antioxidants. Not only is fruit packed full of natural goodness, it's also low in fat. It does however contain natural sugars, so try not to get too carried away, as too much sugar can lead to weight gain, or slightly hinder your weight loss at the very least. But you can still have healthy fast food
Grilled chicken sandwiches
Many restaurants now offer grilled chicken sandwiches rather than breaded and fried chicken fillets. If the restaurant you're eating in offers grilled chicken sandwiches, you'll be able to save yourself a great deal of calories and fat. To be even healthier you can try a pita, whole wheat wrap or just forgo the bun altogether and ask for extra salad instead. Most restaurants will cater to your needs if you just ask.
Salads: healthy fast food
As well as sandwiches, there are also salads to consider as well. most restaurants serve salads as part of their healthy meal ranges, although there are a few things you need to be wary of. Firstly, check that the meat, usually chicken, is grilled rather than fried. Some salads serve battered and fried chicken fillets, which are packed full of calories. If the meat is fried, they may do a cold alternative such as shrimp or grilled fish. You could also simply opt for the salad alone, but that won't be very tasty, filling, or satisfying. If the meat is grilled, then another thing to watch is the dressings. Healthy fast food, Simply ask for no dressing at all, or ask for it on the side, that way you can control how much you use. Most dressings are creamy oil based ones full of fat and calories, although vinegar based dressings contain far fewer calories. Also go easy on the cheese, croutons and other toppings and instead ask for extra vegetables, avocados or a lighter cheese option like few crumbles of feta or bleu cheese.
Most Recommended