Men Wellness A Comprehensive Balanced Life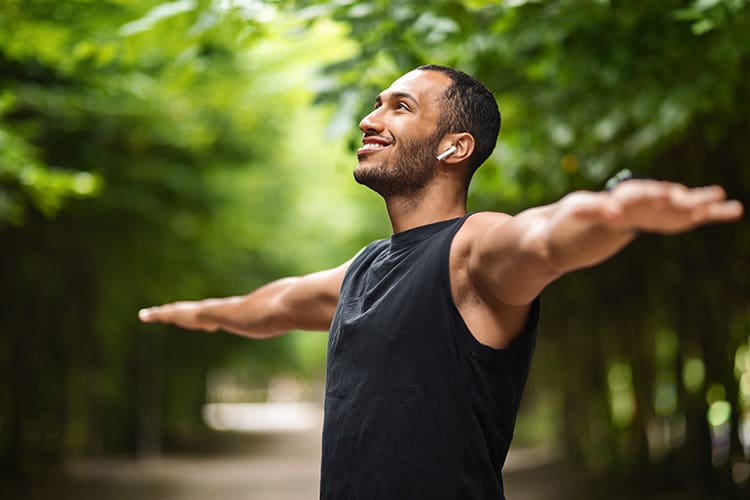 Men's health and wellness is an essential aspect of life, encompassing various areas such as mental health, physical health, and nutrition. A well-rounded routine can help promote balance and overall well-being, empowering men to lead healthier, happier lives. In this blog post, we will delve into the essential elements of a comprehensive health and wellness routine, providing valuable tips for men to incorporate into their daily lives.
Men Health And Wellness Routine
1.Exercise: The Foundation of Physical Health
Physical activity is crucial for maintaining health and well-being. A well-rounded fitness routine should include a mix of cardiovascular, strength, and flexibility exercises. Aim for at least 150 minutes of moderate-intensity aerobic activity or 75 minutes of vigorous-intensity aerobic activity per week, along with strength training exercises for all major muscle groups at least twice a week.
Tips:
. Choose activities you enjoy, making it easier to stay motivated and consistent.
. Try group classes or sports to add a social component to your fitness routine.
. Incorporate functional exercises, such as squats and lunges, to improve overall strength and mobility.
2. Nutrition: Fueling Your Body for Optimal Health
Eating a balanced diet rich in whole foods is essential for supporting overall health and wellness. Prioritize nutrient-dense options such as fruits, vegetables, lean proteins, whole grains, and healthy fats.
Tips: for men wellness routine
. Practice mindful eating, paying attention to hunger and fullness cues.
. Limit processed foods and added sugars, which can contribute to inflammation and poor health outcomes.
. Stay hydrated by drinking plenty of water throughout the day.
3. Sleep: The Pillar of Recovery and Restoration
Adequate sleep is crucial for maintaining optimal physical and mental health. Strive for 7-9 hours of quality sleep per night, creating a sleep-friendly environment and establishing a consistent bedtime routine.
Tips:
. Limit exposure to electronic devices at least 1 hour before bedtime.
. Create a relaxing pre-sleep routine, such as reading or practicing mindfulness meditation.
. Maintain a consistent sleep schedule, even on weekends, to help regulate your body's internal clock.
4. Mental Health: Prioritizing Emotional Well-being
Mental health is just as important as physical health when it comes to overall wellness. Prioritize self-care and stress management techniques to maintain emotional balance and resilience.
Tips: for men wellness
. Practice mindfulness meditation or deep breathing exercises to help manage stress and anxiety.
. Develop a strong support network of friends and family members to foster emotional well-being.
. Seek professional help when needed, such as therapy or counseling, to address mental health concerns.
5. Regular Check-ups: Staying Proactive About Health
Scheduling regular medical check-ups and screenings can help detect potential health issues early, improving the chances of successful treatment and management.
Tips:
. Schedule annual physical exams and discuss any health concerns with your healthcare provider.
. Stay up-to-date on recommended screenings, such as cholesterol checks and prostate exams, depending on your age and risk factors.
. Consider genetic testing to identify potential hereditary health risks, enabling proactive prevention strategies.
6. Work-Life Balance: Achieving Harmony in Daily Life
A healthy work-life balance can contribute significantly to overall well-being, preventing burnout and chronic stress.
Tips: for men wellness routine
. Establish boundaries between work and personal life, such as setting specific work hours and disconnecting from electronic devices during non-work hours.
. Prioritize hobbies and leisure activities that bring joy and relaxation.
. Practice time management and delegation to prevent excessive workloads and maintain balance.
7. Social Connections: Fostering Meaningful Relationships
Strong social connections can have a positive impact on mental and physical health, promoting longevity and overall well-being.
Tips:
. Make time for friends and family, nurturing relationships through regular communication and quality time spent together.
. Participate in social activities, such as joining clubs, sports teams, or volunteering, to expand your social circle and create meaningful connections.
. Develop strong communication and listening skills to foster healthy and supportive relationships.
8. Alcohol and Substance Use: Promoting Responsible Choices
Moderate alcohol consumption and avoiding substance misuse are essential components of a healthy lifestyle.
Tips: for men wellness
. Limit alcohol intake to a moderate level, defined as up to two drinks per day for men.
. Be aware of the potential risks associated with alcohol and substance use, such as addiction or health complications.
. Seek support from friends, family, or professional resources if you struggle with substance misuse or addiction.
9. Tobacco Cessation: Reducing Health Risks
Quitting tobacco use can significantly reduce the risk of chronic diseases, including cancer, heart disease, and respiratory illnesses.
Tips: for men wellness
. Set a quit date and create a plan to help you achieve your goal.
. Seek support from friends, family, or professional resources, such as quit-smoking programs or nicotine replacement therapy.
. Be patient and persistent, as quitting tobacco can be challenging but is ultimately rewarding for your health.
10. Emotional Intelligence: Cultivating Self-Awareness and Empathy
Developing emotional intelligence can improve mental health, interpersonal relationships, and overall well-being.
Tips:
. Practice self-awareness by reflecting on your emotions and understanding their root causes.
. Foster empathy by putting yourself in others' shoes and acknowledging their feelings and perspectives.
. Work on emotional regulation and effective communication to navigate difficult situations and maintain healthy relationships.
A comprehensive men's health and wellness routine encompasses various aspects of life, including physical activity, nutrition, sleep, mental health, regular check-ups, work-life balance, social connections, responsible alcohol and substance use, tobacco cessation, and emotional intelligence. By prioritizing each of these elements, men can achieve a balanced and healthy lifestyle, paving the way for improved well-being and a happier, more fulfilling life.
Most Recommended