Muscle Building Dinners to Try Tonight

If you are getting bored with the same old muscle building dinners ideas look no further. We all know eating proper is an important component of building and maintaining muscle mass. In fact, eating healthy is the crux of a fit healthy body. A proper diet needs to provide you with all the necessary nutrients and minerals required to replenish your muscles and promote growth. However, many are clueless on what to eat for dinner to maximize muscle gains.
To help you answer this question, we have put together the best healthy muscle building dinners ideas to try out. As a matter of fact, they are perfect, clean and help you to maintain a stellar health. They are very customizable and you can add and subtract ingredients to suit your needs without sacrificing dinner.
The top 5 healthy muscle building dinners ideas for all fitness lovers.
Oven Baked Salmon and Asparagus muscle building dinners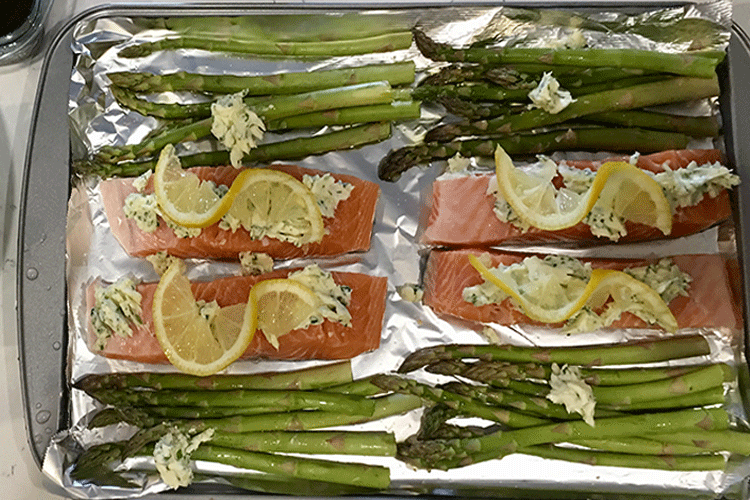 A perfect combination of health and taste. In fact, this muscle building dinners ideas recipe is a storehouse of all necessary nutrients. Salmon is rich in protein, healthy fats and nutritious to eat. They are one of the best sources of protein in seafood. However, cooking can be equally tricky too. This is an easy recipe that takes about 30 minutes tops and you have a healthy and impressive dinner.
Ingredients:
4 – 1/3 llb filets salmon
garlic butter (butter, parsley, garlic, salt/ pepper and a small squeeze of lemon juice
lemon slices
asparagus
olive oil
salt/ pepper
Preparation:
Preheat the over to 425 degrees
line a baking sheet with foil or wax paper
add the salmon in the middle and arrange the asparagus around the sides. 
Season entire pan with salt and pepper and squeeze a wedge of lemon over the salmon, place on thin lemon slice on each filet.
Drizzle olive oil on asparagus and top with left over garlic butter
Bake in the oven for 13 minutes
After bake time is finished turn the oven to broil on high and move the pan to the top for another 2-3 minutes. 
Remove from oven and your muscle building dinners is served! 
Chicken Breast with Sweet Potatoes and Spinach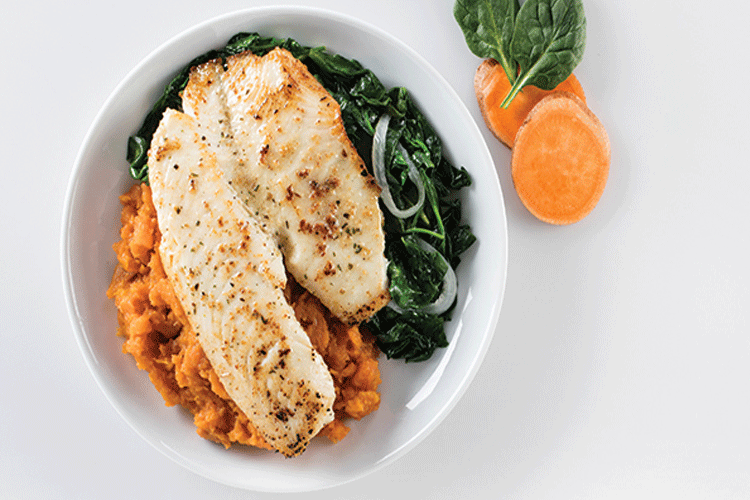 Chicken is a rich source of protein. In fact, proteins help in healthy muscle building, thereby increasing the levels of testosterone. Filling your plate with this yummy recipe is all fun and satisfying. The sweet potatoes are pack with tons of muscle building  This renders a perfect taste and makes you feel full quickly which prevents you from overeating. A single serving comprises of 603 calories, 69g protein, and 61g of carbs. That's why it is always good to include chicken breast in your muscle building dinners.  
Ingredients:
Chicken Breast
Spinach
Sweet Potato
Onions
Garlic
Olive Oil / Butter
Salt/ Pepper
Preparation:
Heat oven to 425 and cook sweet potatoes 45-55 minutes (start that first and get the rest of your ingredients prepped until you have about 20 minutes left on the potatoes.
Season Chicken with salt and pepper
Add 1 tsp. of olive oil on a medium hot pan for 4-5 minutes on each side. Make sure juices run clear when you cut into it.
In another pan add 2 tbsp of olive oil and 2 tsp of butter at med- hot heat. once melted add garlic and onion, sautee for 4-5 minutes until onions are translucent.
Add spinach and sautee until leaves are wilted.
Tuscan Chicken Roll Up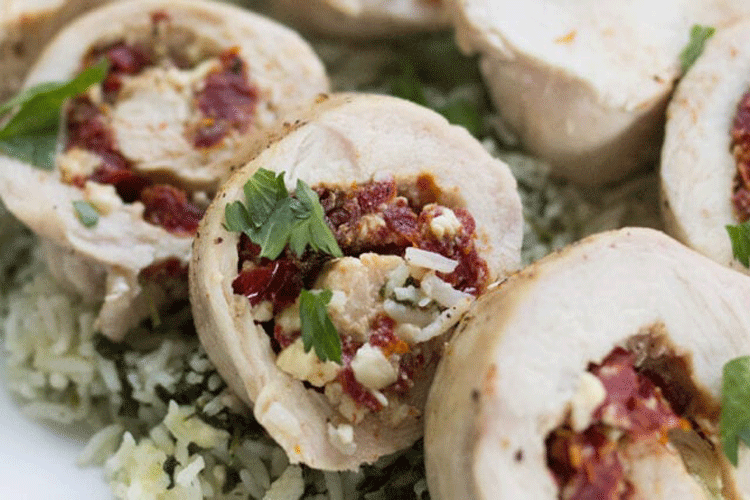 Tired of bland dry chicken breast? Then this cheesy stuffed chicken recipe will add a spark to your muscle building dinners for sure and it's surprisingly easy to make.
The chicken breasts are rolled with spinach, tomato, and feta cheese filling. This renders the food a delicious and savory taste. Also, combining it with brown rice gives you extra healthy carbs and keeps you feeling full longer. In fact, we are sure once you try this chicken you will never eat regular chicken breast again. It's a perfectly balanced food for a light dinner, surely it will satisfy your hunger in a healthy way.
Ingredients:
2 Chicken Breasts
Tomato
Feta Cheese
Spinach
Salt/ Pepper
Brown Rice
Preparation:
Pre-heat oven to 375
Butterfly the chicken breast by cutting them down the middle but not all the way through. Place them between wax paper of saran wrap and lightly beat with a pan to flatten them out.
cut up tomatoes and spinach and mix in a bowl to combine for the stuffing, add a pinch of salt and pepper to the mix. You can also quickly saute them in a pan for 2-3 minutes with a tsp of olive oil.
Add the toppings to the raw chicken and roll up. Use toothpicks to secure.
Coat with olive oil salt and pepper and place in heated oven.
Cook 35-40 minutes flipping half way until chicken juices run clear.
Cook brown rice and serve with chicken
Lean Beef Meatball Spinach Pasta muscle building dinners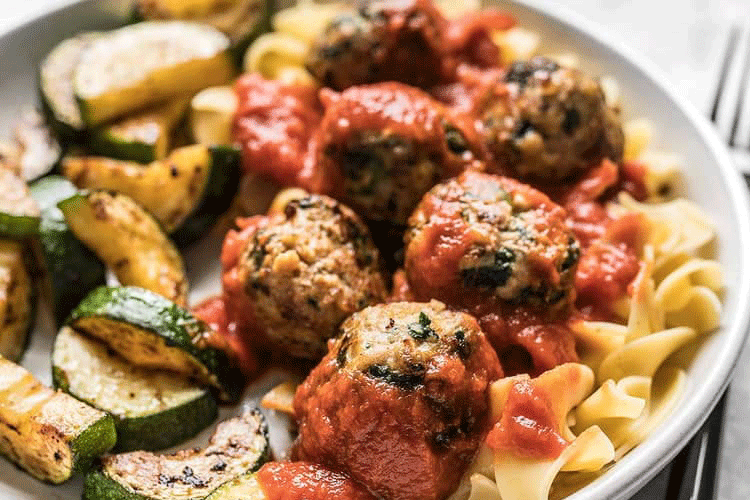 Delicious, healthy and divine is how we describe this muscle building dinners. Beef protein is an important element for healthy muscle building. And meatballs are a perfect stop for solid protein building when done right. They are affordable and tasty, this helps prepare a muscle-building meal which is still pleasing to the palate.  Make sure to use lean ground beef or ground sirloin along with sauteed spinach or frozen spinach if that is easier and combine it will a whole grain or veggie pasta. Above all, it comprises of all necessary nutrients in a well-balanced meal. You can also add zuchinni, squash or whatever you have on hand. 
Ingredients:
1 llb lean ground beef or ground sirloin
1/2 cup breadcrumbs
1 pack frozen spinach thawed (you can also use fresh)
1 egg
2tbsp fresh parsley
1/2 cup parmesean cheese or feta
salt pepper
whole wheat pasta or squash noodles for a low carb option.
Preperation:
Pre-heat oven to 400
add all ingredients togther in order and mix throughly
roll into balls (it should make 20-25)
Bake for 20-24 minutes
boil pasta in water according to package instructions
top with sauteed veggies or 2 tbsp red sauce for a tasty and protein packed meal.
Banana Split with Protein Ice-cream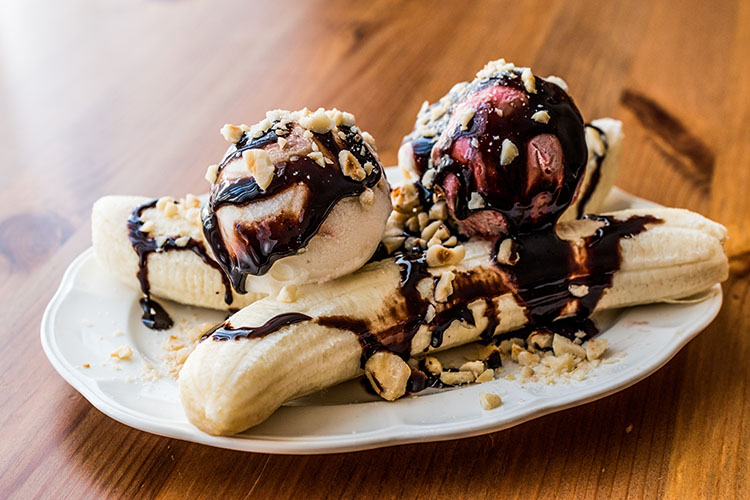 Building a good muscular physique is not easy. In fact, it requires immense training and following a strict diet like muscle building dinners. Thus, munching on ice-cream may leave your diet going haywire. However, this particular dessert can actually help you build muscle.
Ingredients:
1 Banana cut in half
1 protein bar
2 scoops ice cream or coconut ice cream
Almonds or peanuts
caramel/ chocolate sauce
Create a banana split and relish your cheat meal. Rich in proteins and minerals, its half cheat, and half pure joy.
Build your muscles without compromising on your taste buds. The path to muscle building is now tasty and yummy.
Most Recommended