Crested Butte Colorado Mountain Ski Paradise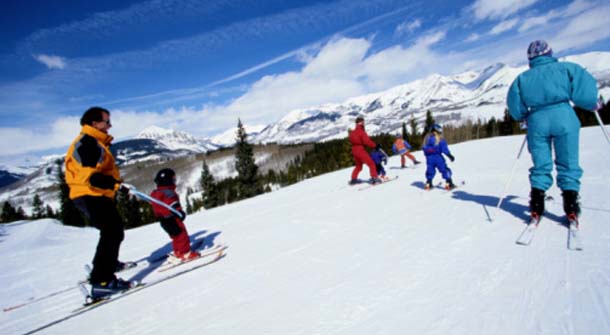 Though it may seem counterintuitive to go to Colorado and head south for skiing, some great adventures await if you head to Crested Butte. Now, to get things off to the right start, it's pronounced Crested Byoot – not butt. And to get there, you'll need to wind through the mountains south of Snowmass and Aspen or head west from Pueblo (assuming you're flying into Colorado).
Vacationing at Crested Butte, CO
What you'll find when you get there is that Crested Butte is COLD. Something about those mountains funnel in snow and block out warmth. Trust us, this is a very, very good thing when it comes to skiing and snowboarding. Mt. Crested Butte always seems to be among the first to report snow conditions for the season, and one of the last to lose them in the spring. As well, the powder gets nice and deep on the mountain, which is good because it's mighty steep.
Definitly an advanced course
With this in mind, consider that the Butte is a challenging destination. Most experienced skiers and boarders agree that greens are more like blues and blues are more like double blues and blacks are for experienced skiers and boarders only. The pitch of the mountain means you can (and will) quickly pick up a lot of speed if you're not watching out. Hence why all the powder is a good thing. Crested Butte
The tricky part of the mountain is that all the bottom runs are fast and often crowded, with a lot of feeder runs all merging together in the same place. One way for beginners to avoid this potentially embarrassing situation of bumping into someone while you get your legs back underneath you for the season (or avoid being crashed into by novices and learners) is to take the Red Lady Express Lift (impossible to miss – it's one of the two biggest and most popular lifts) and head down the Houston, Poverty Gulch or Mineral Point runs until they intersect… then hang a quick right at Painter Boy and head along Gunsight Pass until you get to the Teocalli lift which will take you back up the mountain. If this isn't your first ski trip, enjoy the many intermediate runs that end away from the weekend tourist madness. Crested Butte
For the real adventurers out there, particularly snowboarders, the back bowl of the Butte is one of the most revered in the world. Steep, intricate, off trail, filled with surprise and with accessibility to the very peak of the mountain, these double black runs are the stuff of dreams. Even if you're not an expert, it's worth the lift ride to take a look. Just try to do this at off-peak times so you're not causing an additional wait for those eager to hit the runs. Crested Butte
The Double Diamond Run
Not sure if you've got what it takes to go double diamond? The mountain ski school is one of the best in the world, with private instructors and small group classes with guides eager to get you out on the mountain. In other words, they'll make sure you have the skills you need to conquer the specific challenges of Mt. Crested Butte. You'll be grouped with those similar in skill level and the instructors will give you an honest assessment of whether or not you can hit the back bowl and other expert runs.
Without a doubt, you'll spend all day on the mountain as it is infinitely skiable and the base area town is ideal for pre and après ski – we strongly recommend a Fat Tire Amber Ale or its sister seasonal the ice-brewed 2 below, crafted right in the Rocky Mountains.
Most Recommended