Men Fall Fashion Style Trends For Your Wardrobe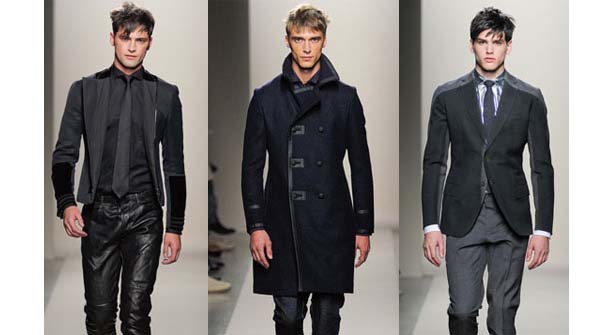 For the style savvy man, the men's fall fashion trends offer varied colors and styles for sprucing up your wardrobe this fall. From a deep, warm Rhubarb color to subtle Honey Gold color, fall trends for men offer countless Fall colors to add to your wardrobe. To help make the endeavor of updating your fall wardrobe as easy as possible, we've put together short rundown of the different fall color styles that every man from the busy, city metrosexual to the more laidback country man can incorporate into their wardrobe.
Men Fall Fashion style Trends
A Touch of the Old English Flavor in Honey Gold
The London Olympics has played a big part in the many fall fashion colors for men to add your wardrobe this year and from that the subtle Honey Gold color is a wonderful choices to mix within other deeper fall colors. From tweed to checks, plaid and herringbone, Honey Gold can be found in anything from sedate country style jackets to fitted Dockers and more. It is a very versatile color that can be pair with many of the other fall colors such as Rhubarb, Olympian Blue and Ultramarine Green.
A Deep Rhubarb Hue
Deep colors such as Rhubarb are fairly nonexistent in the new fall colors to add to your wardrobe this year as most of the fall fashion colors for men trends are leaning more towards lighter colors like Bright Chartreuse and Sea Fog. Rhubarb is a fall color that can be very striking in small touches such as a geek-chic bowtie, a hipster fedora or a quirky Rhubarb checked tie. Try to use this color in small portions as too much can overwhelm and detract from the overall outfit.
A Stunning Tangerine Tango: men fall fashion
For most men, the thought of the color Tangerine Tango might be a little daunting, but if you do it right you can perfectly rock a little burnt orange in the many other fall colors to add to your wardrobe. The Fall fashion trends for men have Tangerine Tango finding its way into statement pieces that you can add to your look such as a luxurious leather jacket to not only keep the fall chill from creeping in, but to give you a fashionably captivating overall look.
A Commanding Sea Fog
Sea Fog, a light gray color, is ever present in many semi-casual and formal looks such as suits, vests and pants. The color allows you to wear a sexy and stylish Sea Fog three piece suit into the office or to a social engagement, effortlessly making gray never look so good.
Most Recommended