Toast: Tips On How to Start a Wedding Toast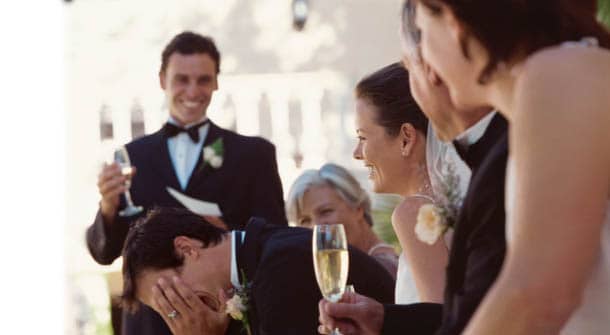 We've all been at that point where we need to give a toast to and for somebody important and special in our life. It can be a daunting thing, after all, considering that it is difficult to give a toast with the right attitude and the right words. But how do you give a good toast that is both memorable and worthwhile, without being too over the top or embarrassing?
Tips for men on how to give the perfect toast
Stick to the truth
Well, first and foremost, the truth matters. The best toasts come from a place of love and truth, and if you can tell the truth and tell a great story or truthfully discuss how you feel about the person or people you are toasting, well, you're well on your way to a good toast. That means telling the truth and seeing to it that they know exactly how you feel, and that your heart comes from a place of love. You do that, regardless of what you say, and you are already striking down the right path.
Be sincere
Next, make sure that what you say, what you do, and the way you act and perform comes out of a place of love. Remember that if you were not a true friend to the people you toast, you wouldn't be giving it, right? Compassion and love go a long ways, and while you can certainly mix in funny and embarrassing stories, at the end of the day, all that matters for a high quality toast that will truly be one to remember is love, compassion, and care for those around you.
On that note, you don't need to go with any corny rhymes or toast stereotypes that other people may have used before. If you aren't funny, or if you can't pull off something cheesy, don't even get to the point where you are trying to do so, as it's only going to come off badly, and possibly make you look worse in the process. Instead, stick to things that you know will work, and things that you can adequately and fully say and mean when you get up to give your toast.
Relax and take a deep breath
Toasts are not as pressure packed as you may think, and it's often relatively easy to do if you can truly speak your mind. Don't forget to take a deep breath and access your emotions to the point where you can get the most out of your toast habits and see to it that you truthfully tell the people or person you are toasting how you feel about them, and what they mean to you. Stay away from potentially embarrassing or inside jokes. No need to air out their dirty laundry in front of a crowd.
Practice ahead of time: toast
Don't go freestyle or try to one up the last person who gave a toast. Keep it short and sweet and stick to the script. Make it personal but don't overdo it.
In time, you will get better through practice, but in the mean time, it's critical to remember just a few things: be honest, bring the toast out of love, and do what makes you comfortable and secure. As you do those things, you will find that your toast habits will work just fine. And in time, you will find that you are a good toastmaster without the unnecessary frills and stupid jokes that accompany so many tacky and poor toasts.
Most Recommended