Shoe Styles Every Man Needs to Own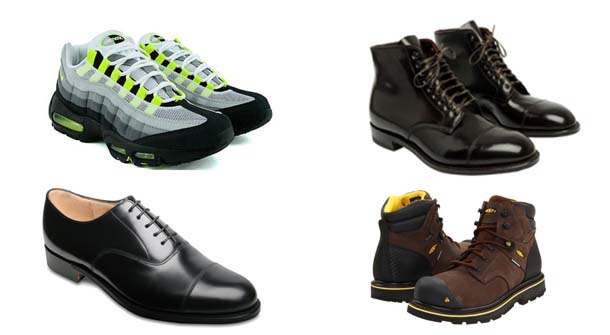 All too often men go for practicality rather than style when it comes to their fashion choices like Shoe Styles. This is a smart choice somewhat, but just because you want a practical pair of shoes doesn't mean your fashion sense has to take a backseat as well. Having a few different shoe styles men need to have on hand can allow them to stay practical while having a selection of shoes to allow a better variety of fashion for every occasion.
Shoe styles every man needs
Athletic Shoes
Every man needs a pair of comfy, supportive shoes for working out, playing basketball with friends, etc. The beauty about athletic shoes nowadays is that they aren't just simple white blobs of fabric and plastic, they come in a variety of styles, colors and functions so that you can put your fashion sense into play whether you're out for a run or playing a game of touch football with the guys.
Oxford Shoes
For many professional men, oxfords are a standard shoe choice in the office. They provide a professional look while giving a comfortable fit, ensuring that your overall look is worthy of your office environment and your Shoe Styles sense. You can find oxfords in a variety of styles and colors so whether you want to pair them with a crisp business suit or a more casual pair of slacks and a dress shirt, you can do so with ease.
Work Boots
There is a common misconception that work boots are just for those who work in manual labor, but they offer not only solid support and protection when working, they are a nice Shoe Styles change up as well. Work boots can be used as a way to influence an outfit and give it a more urban look or they can be used to give your feet protection on those weekend days when you attempt to put together that book shelf your wife needs. Every man needs a pair whether they work in manual labor or not.
Dress Boots: Shoe Styles
Beyond the professional oxfords or the casual athletic Shoe Styles, the dress boot is a great way to put a little panache into an outfit. The boots can be paired with a great pair of jeans, a Henley and a suave leather jacket or a semi-casual pair of slacks and a sweater to give off an air of sophisticated style with ease. Dress boots are very adaptable and can take any outfit and give it that little extra bit of oomph.
Most Recommended