The Top 10 Golf Resorts In The US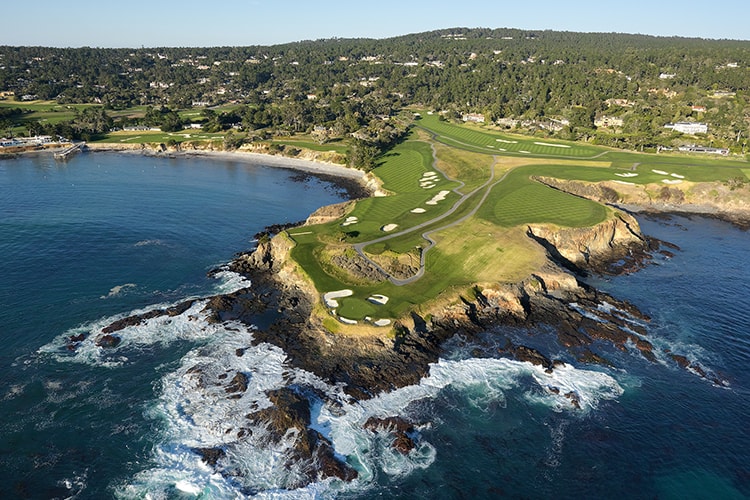 Golf enthusiasts are always on the lookout for the next great destination to indulge in their passion. From the stunning coastlines to the breathtaking mountain ranges, the United States is home to some of the world's most picturesque golf resorts. With world-class courses, luxurious amenities, and awe-inspiring scenery, these top golf resorts across the nation cater to every golf aficionado's dream. In this blog post, we will explore the ten best golf resorts in the US that you should add to your golfing bucket list.
Tee Time in Paradise The Top Golf Resorts in the US
1. Pebble Beach Resorts (Pebble Beach, California)
Pebble Beach Resorts is synonymous with luxury and world-class golf experiences. Located along the rugged coastline of Central California, the resort features four championship courses, including the legendary Pebble Beach Golf Links. With dramatic ocean views, challenging greens, and iconic holes, this resort is a must-visit destination for any golf enthusiast.
2. Pinehurst Resort (Pinehurst, North Carolina)
With over a century of history, Pinehurst is known as the "Cradle of American Golf." It boasts nine pristine golf courses, with the famed No. 2 course being the crown jewel. Designed by the renowned architect Donald Ross, the No. 2 course has hosted numerous major championships, including the U.S. Open and PGA Championship. A stay at Pinehurst guarantees a unique and unforgettable golfing experience.
3. The Bandon Dunes Golf Resort (Bandon, Oregon)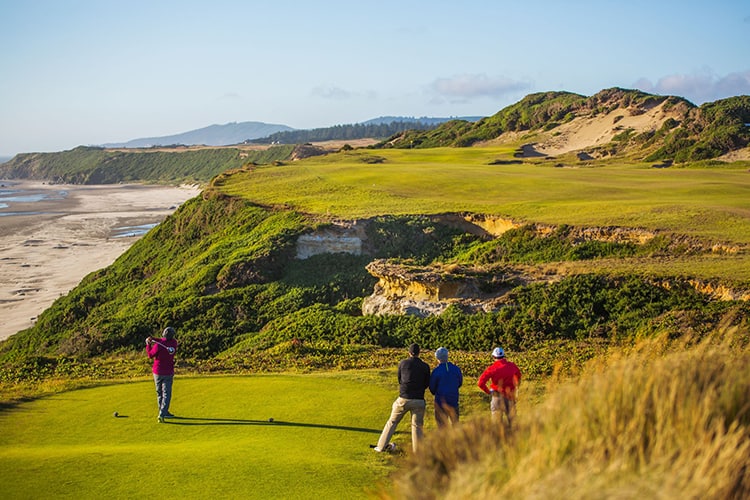 Bandon Dunes Golf Resort, situated along the picturesque Oregon coast, offers a true links golf experience. With six courses designed by renowned architects, the resort has something for golfers of all skill levels. The Pacific Dunes course, designed by Tom Doak, is a particular standout, offering breathtaking ocean views and challenging dunes. The resort's exceptional natural beauty, coupled with its world-class golf, make it a must-visit destination.
4. The American Club (Kohler, Wisconsin)
Home to four Pete Dye-designed courses, The American Club in Kohler, Wisconsin, is a golfer's paradise. The Straits course at Whistling Straits, with its rugged terrain and dramatic Lake Michigan views, has hosted multiple PGA Championships and Ryder Cups. The resort also offers luxurious accommodations and first-class amenities, ensuring that your golf getaway is nothing short of perfect.
5. Kiawah Island Golf Resort (Kiawah Island, South Carolina)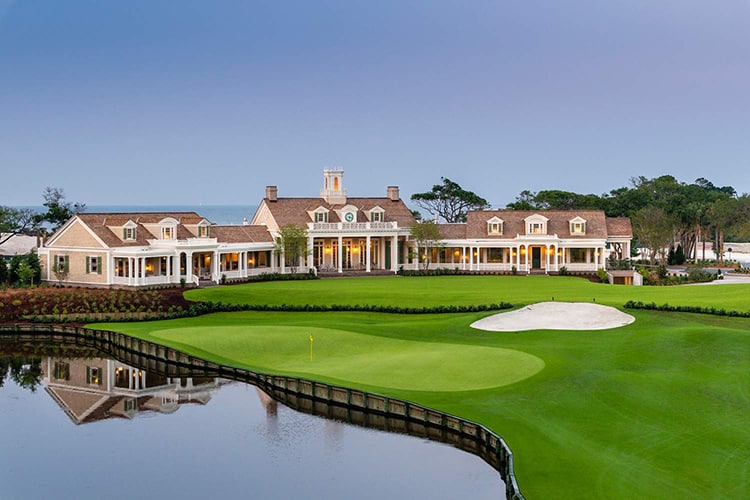 Located on a pristine barrier island off the coast of South Carolina, Kiawah Island Golf Resort is home to five championship golf courses. The Ocean Course, designed by Pete Dye, is the resort's most famous and challenging course, boasting panoramic ocean views and demanding greens. The resort offers luxurious accommodations, top-notch dining, and plenty of activities for the whole family.
6. Sea Island Golf Club (Sea Island, Georgia)
Nestled along the Georgia coastline, Sea Island Golf Club is home to three championship courses: Seaside, Plantation, and Retreat. With a rich history and picturesque setting, Sea Island Golf Club offers an unparalleled golf experience. The Seaside course, with its marshes and ocean vistas, is a true gem, offering a challenging yet enjoyable round of golf. Luxurious accommodations and Southern hospitality can also be found, making it the perfect golf getaway.
7. TPC Sawgrass (Ponte Vedra Beach, Florida)
TPC Sawgrass, located in Ponte Vedra Beach, Florida, is home to the famous Players Stadium Course, which hosts the prestigious Players Championship. Designed by Pete Dye, the Stadium Course is known for its iconic island green on the 17th hole. With challenging water hazards and meticulously maintained greens,
TPC Sawgrass is a bucket-list destination for golf enthusiasts. The resort also features the Dye's Valley Course, which provides a challenging yet enjoyable experience for golfers of all skill levels. The on-site accommodations, dining options, and extensive amenities ensure a memorable stay at this world-renowned golf resort.
8. Scottsdale, Arizona: The West's Golf Mecca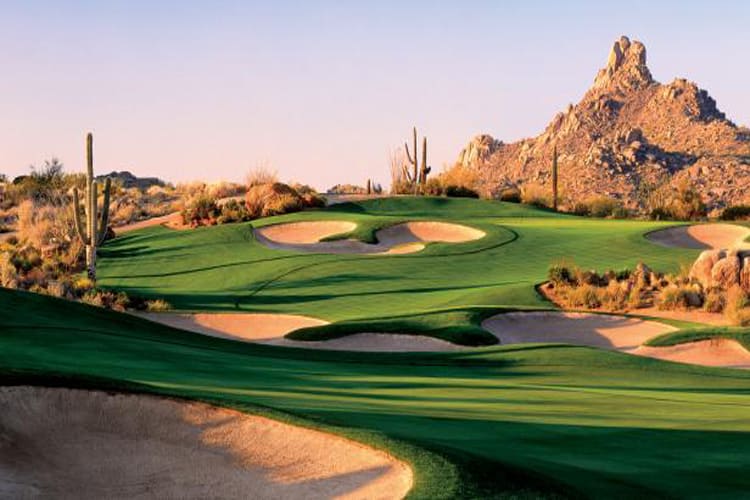 Scottsdale, Arizona, is home to numerous top-rated golf resorts, making it a premier destination for golf enthusiasts. Among the most notable are The Boulders Resort, Troon North Golf Club, and Grayhawk Golf Club. With stunning desert landscapes, immaculate course conditions, and a variety of course designs, Scottsdale offers a diverse and exceptional golfing experience. The warm climate and array of off-course activities make it an ideal vacation spot for golfers and non-golfers alike.
9. The Greenbrier (White Sulphur Springs, West Virginia)
Steeped in history, The Greenbrier in West Virginia has been a premier golf destination for over a century. The resort boasts five golf courses, including the legendary Old White TPC, which hosts the PGA Tour's Greenbrier Classic. With courses designed by legendary architects such as Seth Raynor, C.B. Macdonald, and Jack Nicklaus, The Greenbrier offers a unique and challenging golf experience. The resort's elegant accommodations, luxurious spa, and wide range of activities make it the perfect golf getaway.
10. Streamsong Resort (Bowling Green, Florida)
Streamsong Resort, situated in central Florida, is a modern golf destination unlike any other. The resort is home to three top-ranked courses: Red, Blue, and Black. Designed by renowned architects Tom Doak, Coore & Crenshaw, and Gil Hanse, these courses offer a unique and challenging golf experience that is sure to captivate golfers of all skill levels. The luxurious accommodations, innovative dining options, and impressive amenities make it an ideal destination for an unforgettable golf vacation.
The United States is home to some of the world's most incredible golf resorts, offering unforgettable experiences for golfers of all abilities. From the iconic Pebble Beach to the picturesque Bandon Dunes, these ten golf resorts showcase the best of what American golf has to offer. Whether you're looking for a luxurious escape, a challenging test of your skills, or simply to enjoy the beauty of the great outdoors, these destinations are sure to provide the perfect golf getaway.
Most Recommended