Working out with Your Dog Ways To Exercise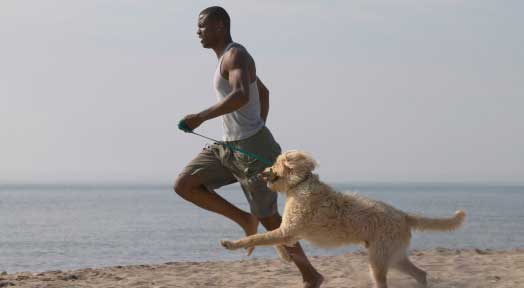 Working out with your dog, If you are looking for a training partner who will always work with your schedule, has endless energy and is always ready to workout try enlisting your pooch. Studies have shown that working out with a partner increases your productivity and motivation so why not start with your own personal workout buddy?
The benefit of working out with man's best friend.
If you are a dog owner you already know many of the benefits of having a four legged friend in the house and that they need lots of attention and exercise. Working out with your dog is a perfect excuse to get out and get moving but first you will want to make sure you and your dog are prepared.
It is important to visit your vet with your dog before start working out with them.
Before you start any workout regimen make sure and visit your vet. This will ensure your dog is healthy and doesn't have any nagging health issues that would prevent them from doing the type of workout you want. Also some breeds are more adept to intense workouts like retrievers, terriers, shepherds and large mixed breeds if you have a smaller breed you may have to stick to walking or a more moderate exercise. After you have established that your dog is up for the challenge you will want to make sure that it is properly trained. Nothing can be more distracting than a dog constantly stopping to sniff the bushes or mark every tree in sight. If you are having issues leash training your dog consult a professional dog trainer for extra help because if you are working with your dog you will need a leash.
Now that you're able to get started you will want to make sure that you have a good leash. Working out with your dog
The standard six foot leather or thick fabric type (not the retractable kind). If you plan on running you will need to make sure that your route is a safe place for your dog to run. If there is a lot of street debris or broken glass you will need to be extra careful to make sure your dog does not injury its paw pads. Make sure and hydrate both yourself and your pooch and bring water with you if you plan to go on a long run. Remember that dogs cannot sweat so avoid hot times of the day working out and stop if your dog cannot keep up the pace.
Always remember there are lots of exercise you can do with your dog.
If running isn't your thing you can try swimming, dog yoga, soccer, fetch, hiking or just about any other outdoor activity. Aside from your own health benefits you will also find that a well exercised dog is a well behaved dog.
Most Recommended