Derek Jeter Will Suited Up To Play Final Game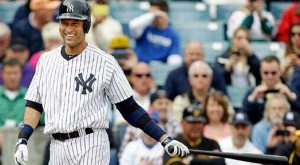 In fitting fashion, Major League Baseball great Derek Jeter will play the final game of his illustrious career against the Boston Red Sox, the long-time rival of his beloved New York Yankees.
It was just days ago that Derek suited up for the final time in Yankee Stadium. The ending was everything baseball fans could have dreamed. With the Yankees still holding on to hopes of a playoff berth, they found themselves tied with the AL East-leading Baltimore Orioles 5-5 in the ninth inning.
Jeter had already drove in two runs in the seventh, but ninth inning home runs by Steve Pearce and Adam Jones left the game tied at 5-5 to set the table for what would be the swan song of one Derek Jeter.
With a runner on second, Derek stepped to the plate and hit the first pitch into right field. Jose Pirela would score and the Yankees would swarm their teammate. It was the perfect way for Jeter to leave Yankee Stadium.
What heroics will take place Sunday? No matter what happens, Derek will have left a mark on the game that he so truly loves. Drafted by the Yankees out of high school in 1992, Jeter debuted in the majors in 1995 and won AL Rookie of the Year in 1996.
The New Jersey native, who grew up in Michigan, played in 14 All-Star games and was the winner of five Gold Gloves. He led the Yankees to five World Series championships during his career and was the MVP of the 2000 series when the Yankees defeated the Mets in five games.
Derek has consistently been one of the leaders in the American League in hits and runs scored throughout his career. He has a .309 lifetime batting average and 3,464 career hits.
When Jeter steps off the field Sunday for the last time, he will have left behind many great memories, not only for Yankee fans but for baseball fans everywhere.
Most Recommended