Stephen Curry Breaks NBA Record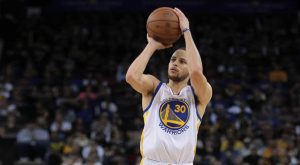 Golden State's Stephen Curry made NBA history breaking the single-season record for the most three-pointers made with 272 in the Warriors' 99-88 victory over Portland to end their regular season. On the same night, the Knicks' Carmelo Anthony wrapped up the NBA scoring title (28.7 ppg) since Oklahoma City's Kevin Durant decided to sit out the final game of his regular season.
All eyes were on Curry, who needed just two "threes" to break the mark held by Ray Allen, who set the record at 269 during the 2005-06 season playing for the Seattle Supersonics. Curry started slowly missing his first two three-point attempts but with 6:49 left in the second quarter, the 6-3 sharpshooter drained his second "three" of the game thus etching himself into the NBA record book.
More importantly for Curry and his Golden State teammates, the victory gave the Warriors the No. 6 seed in the Western Conference playoffs. The Warriors will open the NBA playoffs at Denver on Saturday.
Stephen Curry, the former Davidson star, was 4-for-11 from three-point range for the game and wound up with 15 points. The Warriors end the regular season at 47-35 and qualify for the playoffs for the first time since 2007.
The NBA scoring race was a heated battle between Anthony and Durant, neither of whom would play in their team's final games. Durant, who played in 14 more games than Anthony this season, averaged 28.1 points per game, just a shade below Anthony's 28.7. For Durant to have surpassed Anthony to take the scoring title, he would have had to have scored 70 points in the Thunder's game against Milwaukee.
Anthony's scoring title was the result of a late-season surge that helped the Knicks claim the No. 2 seed in the Eastern Conference playoffs. Anthony averaged 36.9 points a game in the eight games since April 1st. The Knicks' star joins Bernard King (1984-85) as the only players in franchise history to win a scoring title.
Most Recommended