NFL Draft Texans Take Clowney No. 1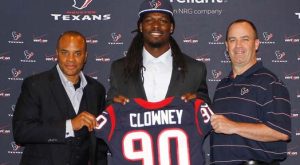 This Mother's Day, several sons gave their mothers something to be very proud of as they were selected in the 2014 NFL Draft. As expected, South Carolina defensive end Jadeveon Clowney was taken by the Houston Texans with the first pick.
Clowney is an absolute freak and gives the Texans one of, if not the, best DE tandems in the league. At nearly 6-foot-6 and 265 pounds with 4.5 speed, Clowney will play opposite J.J. Watt, the 2013 NFL Defensive Player of the Year.
The St. Louis Rams may have had the best draft of any of the 32 NFL teams, and they should have. Picking No. 2, the Rams took Auburn offensive tackle Greg Robinson, who was a big part of the Tigers NCAA-leading rushing attack last year. St. Louis had two first-round picks and used the second, No. 13 overall, on Pittsburgh defensive tackle Aaron Donald. They picked up Robinson's teammate, RB Tre Mason, in the third round, and Florida State DB Lamarcus Joyner in the second. All four could be starters when the Rams open the season. nfl draft
Blake Bortles, out of Central Florida, was the first quarterback taken going to the Jacksonville Jaguars with the third pick in the draft. Johnny Manziel, who projected to go much higher, fell to the 22nd pick and the Cleveland Browns. The Minnesota Vikings traded up to the final pick of the first round to take Louisville QB Teddy Bridgewater. In the months prior to the draft, there was talk that these three QBs could all be gone in the first ten picks. While that didn't happen, the three did still wind up in the first round. nfl draft
One of the more intriguing and inspiring picks took place in the draft's final round. Michael Sam, the Missouri defensive end who came out in February announcing that he was gay, was selected by the St. Louis Rams with the 34th pick of the seventh round. The Rams selection makes Sam the first openly gay athlete to be drafted by an NFL team. nfl draft
The Rams also selected Maurice Alexander, a safety out of Utah State in the fourth round. Alexander, who hails from St. Louis, headed to Utah State to play for the Aggies but was suspended from the team two years ago. He returned home that year and worked as part of the clean-up crew at Edward Jones Stadium, the home of the Rams. Now, he will have the opportunity to play there.
Most Recommended