Date Workout Ideas for Active Couples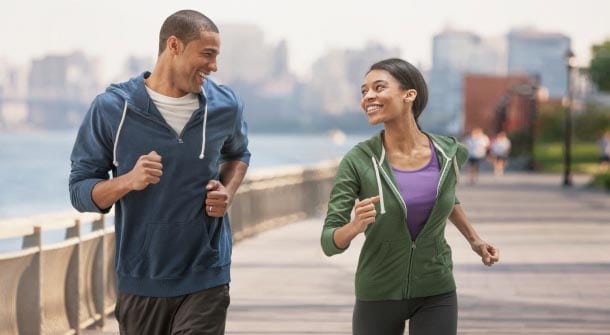 So are you sick of the same old boring dates like dinner and a movie? Well, consider getting your blood pumping with these date workout ideas during your date rather than taking your date on the same old date routine. There are so many different ways you can do this but we are going to list 6 date workout ideas for you to use in your dating life.
Date workout ideas for the active couple
1. Rock climbing.
Doing new things together actually releases the same chemical in the brain that new love does (or infatuation). You feel happy and maybe a tad horny when you climb a mountain and put yourself in harm's way. Of course, if you aren't a rock climbing expert why not consider taking your adventure indoors and head to a rock climbing business that offers training for newbie's? It's exciting and is a great workout for both of you.
2. Go for a run. date workout ideas
Meet up with your girl in a park and go for a quick run around the park and make the loser by dinner afterwards. It gets your heart rate up and you blood pumping, plus it adds in a bit of competition into the mix. Many women love to run so this is the perfect opportunity to show off how fit you are. Plus, who doesn't love watching a woman run? You can also enjoy a conversation between the both of you.
3. Go for a bike ride.
Grab the bicycles and make your way down to the beach or your favorite spot in the city for an afternoon date. This gets you closer to nature and closer to each other in the process. You can stop half way through and grab a coffee or some ice cream to make the date even sweeter. She will love your nice guy side and you both burn some calories in the process. date workout ideas
4. Try ice skating.
As the weather gets worse there may be a limit on how many outdoor activities you can share with your girl, but there are some substitutions you can make for them. For example, has your girl ever gone ice skating? If not grab her and take her to the nearest ice rink and let the good times roll. Although she may fall on her butt a couple of times she will appreciate the effort you made to make her laugh and expose her to something new. Skating is also a perfect calorie burning activity and date workout ideas.
5. Play paint ball.
That's right painful paint ball is on our list of date friendly workouts. Think about it, you are running, hiding, ducking and have your adrenaline pumping through the roof to keep you on your toes. It's competitive, sexy, and there is a bit of violence involved. And if your girl can stand up to your own paint ball fury she is probably a keeper. Either grab your own gun or head out to a professional course to burn calories and have some serious fun while doing so with this date workout ideas
6. Go hiking.
Trekking up steep embankments and traversing through the dangerous outdoors is manly and hot when you take your girl with you. She will enjoy watching you walk before her while warding off any danger that may come her way, and you will love the way her body looks in the tight sweater she has on. It's sexy and adventurous at the same time!
7. Hit the Gym. date workout ideas
Taking your girl to the gym can be a great option for a date. Work up a sweat while you get to "spot" her and teach her new exercises all the while burning some calories and pumping a little iron. Make sure to do exercises that are easy to change out so both of you can lift comfortably and don't forget to hit up the smoothie bar afterward for a post workout treat. If she is the active type she will enjoy being close to you and meeting your gym buddies in the process.