Pressure To get Married Feeling Like You Should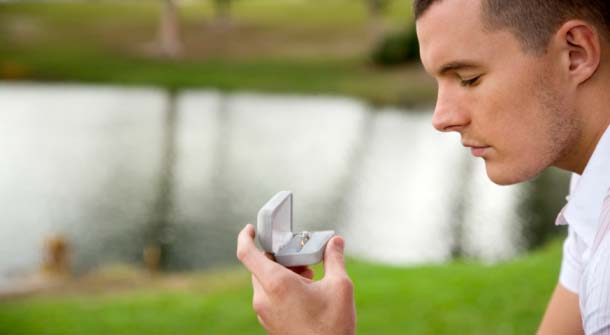 The decision to propose to someone is one of the biggest decisions you will make in your entire life. So if you feel that you're getting the nudge from your family and friends to lock down you current girlfriend you should consider a few things about yourself and your relation with that person first. Instead of bowing to the social pressure to get married you really need to ask yourself whether it is the right time for the long haul and a commitment for life.
Engagement pressure to wed or not to wed
The first thing one should consider before taking any plunge is the quality of relationship you both share. It is very important for both of you to have the same expectations from the relationship. Both the partners should be equally willing to be together. You need to be sure of your feelings. If you both visualize your future together then it is probably the right time for you! Here are a few things that will help you know the perfect moment to formalize your relationship. pressure to get married
Compatibility:
Give time to understand each other in a relation. It's never too early or too late. At times, the realization comes pretty late when couples find out that they are not as perfectly compatible as they thought they would be. Maybe, they overlooked some flaws or the love does not seem to be the love they thought existed between them. If you have doubts, you can postpone the engagement for now; allow time to understand each other better. However, be careful, as continuous postponing may bring doubts or one may lose potential partners.
Misconception: pressure to get married
It is a wrong notion that there is a right time to get married by a certain age or an engagement will make you seem more mature. In fact there is no right or wrong time in relation to be committed for life. What is required are two loving hearts. So, don't give in to pressure to get married; just get engaged when you feel right!
Considerations: pressure to get married
Readiness for a commitment and how strongly you feel that you have found the right person should be kept in mind. Besides this, when one is free from major stresses of life like buying a house or settling down in a career, mind is relatively at ease and you can think about popping the question to your beloved.
Experts feel that it is very important to consider your partner's viewpoint on a number of things like finances, kids, religion, relocation etc. to build a solid foundation for the relationship. If both of you are ready for commitment, then probably it is the right time! Also, it is advisable to go for Pre-engagement counseling together to have realistic expectations for each other and the relationship.