How To Let Her Down Easy To Avoid Chaos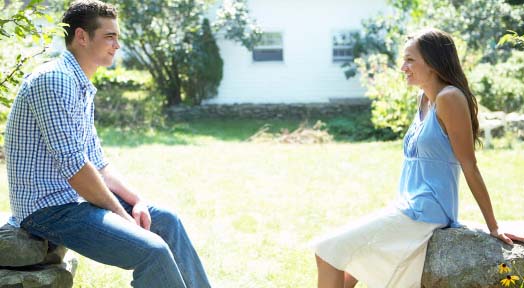 The thought of breaking up with someone is much easier in theory than actually doing it. Since there is no such thing as the "perfect breakup" you need to be very cautious of how, when, and where you choose to break off a relationship for good. It can make you feel like a heartless guy- maybe even like you're the worst person in the world – but it's possible to let her down easy and still make a clean break.
How to let her down easy and still remain amicable
At some time in your life, you may have to break up with someone you had planned a future with. Although you're ready to move on you may still have feeling for this person, they just are not the same as they used to be. Hence the reason why you what to bring this union to an amicable end without hurting her feelings.
Don't beat around the bush
When it's time to say good bye it can be hard to work up the courage and many delay ending their relationships because they just can't find the words. It's not wise to postpone it until you can't hold it any longer, and then it just comes out at an inopportune time like during an disagreement. The drawback of ending a relationship when tempers flare is your partner might think it was something they said and not really understand the true reason behind the split. Instead, just get your words together and let it out. You many have mutual friends that will keep you in the same circles for a long time and the last thing you want to do is have awkward future encounters. So take a look at these eight steps to help you let her down easy.
1. Tell her as soon as you feel unhappy or lose interested in her
Don't give any false impression, just tell the truth. She may have a strong reaction but just be honest, yet tactful. If you have moved on the worst thing you could do is to stick around to not hurt her feelings when you have already checked out of the relationship.
2. Gradually start distancing yourself: let her down easy
Ignore her calls and texts, spend more time at work/study, even meet her late and less often. She may question why you are being so distant, yet she will get the clue.
3. Tell her first before you disclose your feelings to anyone else like family and friends
If you tell other people chances are she could hear about it from others and will be hurt that you didn't come to her first. So be careful!
4. Don't break up over the phone or text
Don't tell her through any electronic media like emails, social networks, text messages or even over phone calls. Just talk to her face to face, in a suitable private yet neutral location where anyone of you can leave easily. It will be more convenient to express the matter properly.
5. Let Her Down Easy by Being clear and concise
Don't dance around the truth just tell her how you feel. Avoid placing blame by saying things like 'it's all your fault' at this point of your relationship. You are here to end it, not to hurt her.
6. Prepare yourself before the break up
There is a big chance of tears, screaming, loud angry voices, puppy faces and of course 'why'? Just stay calm and don't panic.
7. Don't be Cruel
If your serious about letting her down easy, try to leave the relationship on a positive note. Being over critical or just plain mean defeats the purpose of an amicable split and should be avoided at all costs.
8. Don't Celebrate
It might feel very liberating to finally break ties but avoid doing a victory lap on your way out. The last thing you want to do is have facebook pictures of you making out with every girl in sight at the bar before people even know that you have split up. It's tacky and will definitely make your now ex resentful and bitter over your recent break up.
After you have let her down easy and the break up is over, the entire process is not going to be without challenges. The after effects may sting a little. Just be strong and have patience and as time passes everything will return to normal and you can move on to being a single man once again.