Your Bed – If Pillow Could Talk Literally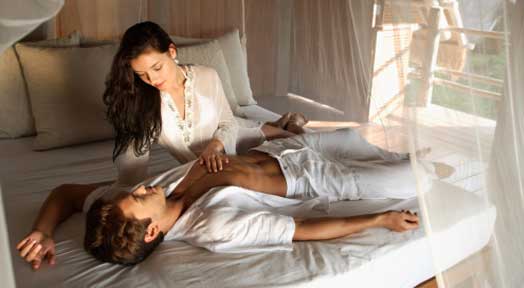 So you've played all your cards right and now it's time to take a relationship to a higher level… and just as you get your partner into Your bed, they change their mind. Or, you're starting to realize you never have sex at your place – always at your partners.
Your bed could be the reason.
Everyone appreciates presentation – it's why Brookstone makes such cool displays in their stores and why the iPhone kicked serious butt when it first came out with its sleek minimalist design. And, even though it's subconscious, presentation also matters in the appearance of the bedroom. The typical bachelor look of an exposed bedframe (or worse, mattress on the floor) and an old set of sheets doesn't say "come hither," it says "get thee away." A single flat pillow doesn't say, "I want to share an experience with you," it says "I want to do you quick and then get you to leave me alone." You can change that with a simple trip to the home furnishings department and a little bit of knowledge.
Thread Count:
The higher the better. This won't just help your bed linens last longer, they actually get softer with each and every washing. Satin-finished cotton is better than actual satin for everyday use, but for a special occasion the slinky sexiness of full satin is hard to beat.
Pillows: bed
Feather pillows are a broad term… In actuality feathers can refer to both feathers and down. Feathers offer some stiffness and structure in addition to fluff. Down is all fluff and squish. Most people prefer a mix of the two. However, natural feathers can aggravate allergies. A fiber-fill pillow made from bamboo or polyester fibers can be just as comfy without the sneezing and wheezing.
Accessories:
You don't have to go crazy here, but at least buy yourself a bed skirt of some kind. Plain white works well with just about any color scheme (meaning you don't have to change it if you have multiple different colors of sheets), and they're pretty simple and affordable. Helpful Hint – it goes between the box spring and upper mattress; not underneath the box spring. Now you can store stuff under your bed without everyone being able to see it. Besides that, get some sort of nice quilt, blanket, comforter or duvet to put on the top. Even if it's folded neatly at the bottom of your bed, it still shows you care about someone else's comfort.