First Trip As A New Couple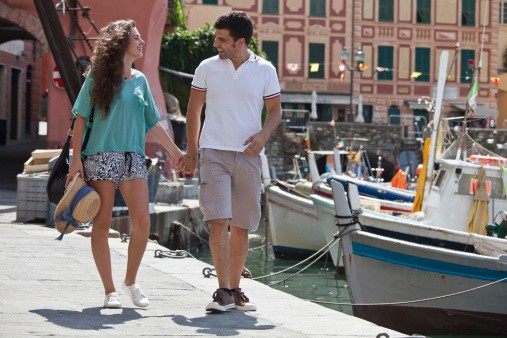 It's becoming more and more trendy to have a little getaway fairly early on in a relationship. So how do you plan your first trip as a new couple, These vacations can really make or break a relationship. It seems to be popular amongst couples that are looking to get serious right from the get go either because they are both ready to settle down or because they are both are tired of lengthy relationships that don't work out. There are also those fun loving couples that need to surround relationships with a lot of activity. There are no serious intentions here, just a desire for a good time. Regardless of which is your style, how can you plan your first trip as a new couple?
Planning your first trip as a new couple
Plan out the details
If you haven't been together all that long, you'll have to work out some of the details together, since you really don't know what she's into yet. For example, do you love to drive as hard as possible to get your destination and start enjoying your trip? What if she feels the journey is a big part of the vacation. Maybe she wants to hit every single Starbucks on the way (which also means a lot of bathroom breaks). Deciding your road trip style in advance can keep one of you from already being frustrated before you even get to your destination when planning your first trip as a new couple.
What do you hope to achieve?
What is your overall goal with your first vacation as a couple? Are you just trying to get to know each other better, or are you looking to cram as many fun activities as possible into your break from reality? If you were planning to spend most of the trip in the room, and she wants to go sightseeing, you better work the details out before you leave home when doing your first trip as a new couple.
Make sure you have some space
Traveling with someone that you don't live with is going to mean spending a lot more time with them than you are used to. What if some of her idiosyncrasies start to drive you crazy, or vice versa? Have a backup plan that let's you both have your space. Offer to hit the golf course while she goes shopping or calls her mom if things get too crazy. If things go well, a small hotel suite can be romantic. If they don't, you may wish you were in a condo with a spare bedroom.
Plan your meals and your budget: first trip as a new couple
Finally, when traveling as a couple you need to coordinate meals and finances. This can be tough if one or both of you have special dietary needs or even if one of you is just a picky eater. Think about the menu before you take off. Otherwise, she may be expecting fancy dinners out every night while you were planning on getting groceries and having her cook for you in the room. One or both of you may end up going hungry a lot or broke. Also be realistic in setting a budget. The last thing you want is to be in paradise and can't enjoy any of the venues or have to cut things short.