Tips for Shy Guys on Approaching Women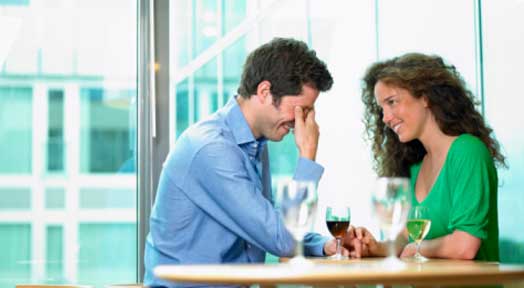 Tips for shy guys, If you're a guy who finds it a little difficult to get in the social mix and approach the ladies, it can sometimes be hard to make it in the dating world. Say you like a girl, but making that move to approach her seems daunting when you have no idea how to actually make the move or how to keep her interested after that. Don't worry though, you shy guys just need a few helpful tips that will help you break the ice, so here are 5 dating tips advice for shy guys.
Dating Tips advice for shy guys on approaching women
1. Smile Your Ass Off
One of the best ways to start flirting with a woman is by simply smiling at her. A smile can say a thousand words and can help you gage whether she is interested in you approaching and vice versa. Don't be cheesy or creepy, but give her your best smile and convey your interest in getting to know her.
2. Be Confident in Your Approach
Confidence is a big turn on for women and can be all the difference between a catching her attention and keeping it or watching her pass on by. Having confidence can appear to be impossible if you are shy guy, but it can be done with the right tips. Get acquainted with who you are and what you strengths are; use them to build your confidence and figure out an approach that pairs well with your strengths. When you are confident in your ability to at least start off the conversation you can build from there getting to know her better and engaging her in conversation.
3. Be Honest and Real
There is nothing a woman hates more than feeling as if the man she is talking with is fake. Whether it is boasting about your adventures as an "experienced" deep sea diver or over exaggerating your financial status, women can see through the fake and will end the conversation very quickly. The more honest and real you are the more she will be willing to give a shy guy like you a chance to make an impression so take note of these tips.
4. Be a Little Mysterious
It is a fact that women love bad boys and dark, mysterious men… so use your shyness to create this persona. Be a little illusive and strategically chose when to answer a question straightforward and when to let you silence speak for you. Remember to keep a balance though; you don't want the mysterious allure to backfire and have you seem like a jerk or worse, dumber than a box of rocks.
5. Make Her Laugh: tips for shy guys
They say that laughter is the best medicine, well it is also great at relaxing both of you and creating a camaraderie that both of you can use to feel more at ease with each other. It can be a stupid joke that you laugh about the lameness of or a witty about your boss that you've been hoarding for the last few days. Just make her laugh and get her associating happiness with you.