The Right Engagement Ring Feeling Pressure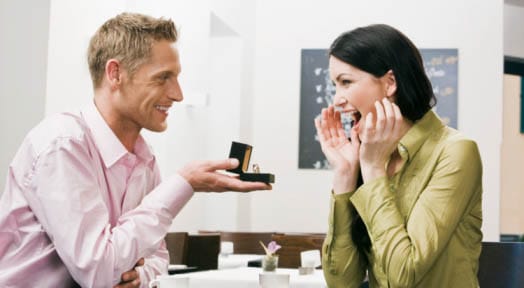 So you're planning to book a corner table in a classy restaurant to finally pop the question with the right engagement ring. And you've rehearsed many hours in front of the bathroom mirror to perfect your lines, and now you are simply counting on the days. These are great preparations for that memorable day of reckoning, but keep in mind that these are not the only things you should prepare if you finally want to pop the question.
Tips for picking out the right engagement ring
When you want to make a statement about getting married, then consider shopping for an appropriate engagement ring. The engagement ring is the sign of a proposal, and surely when faced with this ring your lady love will have no other choice but to say 'I Do'! Now, shopping for the right engagement ring can be tough for the average guy. So if you are planning to shop for one and you are still clueless on what to get, consider the following tricks and guides.
Prepare Your Budget (It's Gonna Hurt Your Budget!)
You need to prepare first your budget if you want to shop for the right and classiest engagement ring around. Some of the best engagement rings can cost you a few months' worth of salary. if you want to impress with the princess-cut engagement rings or a gold one, then better save up for the occasion.
Sneak Around or Get Help from Her Friends
Correct sizing is the key when you are shopping for the right engagement ring. Sure, you can find and invest in a pricey engagement ring can you have saved up for the last few months. But what if this engagement ring will not fit her? This is where most of the common frustrations of men come into the picture.
So how do you get the right size of the engagement ring without breaking the plan for surprise? One creative thing that you can do is to 'steal' one of her rings and show this to the seller or the jeweler. While you are trying to look for the right engagement ring, make sure you snap pictures of her rings and jewelry sets in her room. You can get ideas as to what she really likes, and the kinds of designs you can get.
You also need to know a few things about the 4Cs when it comes to diamond shopping. The main rock used in making engagement rings is diamonds, so it pays to know a few things about diamonds, and what kinds of diamonds are considered better when it comes to engagement rings. The Cs in diamond shopping will include Carat, Color, Clarity and Cut. When it comes to the color of the engagement ring, try to go for an engagement ring above H so that it will not be too yellow, and for Cut go for at least Very Good.
Once you have bargained for the best price, then that's the time you can start planning for the actual event. Go for extremes, and add a few more trimmings to make the occasion more special than usual.