The Top First Date Question To Ask Your Date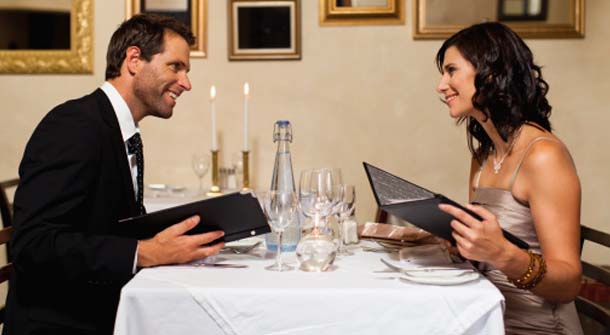 Whether you're just starting out or you have a vast experience in the area of dating, it's a good idea to have a couple first date questions on hand to help you get to know the woman you're out with. Before we get to what you should ask it should also be noted that asking questions that are very intimate or highly controversial topics such as politics, religion, or past relationships are best avoided while breaking the ice. To get you started with what you should be asking we found a good first date question or two to keep up your sleeve.
Top 5 first date question to get to know your date
1. What would you like to drink/ eat?
More than likely there will be food and beverages around on your first date whether you go to a coffee shop or a restaurant. This one might seem like a no brainer but it's very important to be a gentleman and ask her before she asks you. It also lets her set the pace if she wants to get started on a cocktail or if she would rather get an appetizer to start things off.
2. What makes you laugh? first date question
Humor is always a very valuable feature for possible interactions and relationships, so learn about what you think can be a facilitator for a great conversation with your partner. Answers provided helps in lightening up the mood, which helps to make the conversation to be more cheerful and makes both of you more comfortable and relaxed.
3. What do you do for fun on the weekends?
This first date question not only reveals your date's hobbies but also help to know more about if she is an introvert or extrovert. Sure, it may seem a bit exaggerated, but it can be an important clue to help you get to know her better.
4. What do you do for a living?
Asking questions related to career goals and work might be a comfortable and safe topic to discuss. On a general note, people feel more comfortable discussing their work no matter what field they may be in. This question can give you an idea of their finances and how ambitious they are. Kindly note, it is not advisable to ask the amount she earns. first date question
5. Where is your favorite vacation spot?
This question lets you know your partners "sense of adventure". By asking this question, you will know if she prefers the city or country and what type of climate she likes to spend time in. This can help keep the conversation casual and interesting and is a great Segway into sharing vacation stories.
Although it is a great idea to make conversation with your date by asking questions make sure you keep it light and don't break up the middle of a story to fire away on your next question. It's not an interview and if she agreed to go out with you it's clear she wants to get to know you too and may have a few questions of her own.